Bright Nights at Forest Park
November 25, 2021

-

January 2, 2022
Bright Nights at Forest Park will kick off its 27th season on Wednesday, November 24, with a special guest flipping the switch on all 675,000 lights. In addition to the magical lighting display illuminating the three-mile drive, Santa's Magical Forest will be welcoming visitors to enjoy, snacks, souvenirs, and whirl on the carousel. Santa will be greeting visitors at the entrance on opening night as well as Fridays, Saturdays, and Sundays through December 19th.
Santa's Magical Forest is located just passed Seuss Land. The concession stand will offer a full menu of soups, sandwiches, snacks, hot chocolate and more. In the gift shop, there will be plenty of souvenirs including the newest edition to the Bright Nights' children's book and matching tie dye shirts, campfire mugs, and musical lanterns. Carousel rides are $3 each or two for $5.
$10 Tuesday
Tuesday, December 7 & 14, 5pm – 10pm
$10 Car Admission (no coupons accepted)
Tickets must be purchased online in advance.
Bright Nights Named Best of the Best
Bright Nights at Forest Park, the Northeast's premier holiday lighting event, has been named to the American Bus Association's "Best of the Best" for 2020. The list includes attractions and events from throughout the United States and Canada. Bright Nights is the only holiday lighting event chosen for the distinction.
Bright Nights at Forest Park is featured in the Festival and Events category along side Eastern States Exhibition, Home of the Big E, Philadelphia Flower Show, and the Quilt Gardens Along the Heritage Trail in Elkhart, Indiana.
Since 1995, Bright Nights has been a unique public/private collaboration between the City of Springfield's Department of Parks, Buildings & Recreation Management and the Spirit of Springfield, a private non-profit organization. Together they have welcomed more than 6 million visitors. It has been calculated that if every bus that had visited were lined bumper to bumper, they would go from Springfield to Cape Cod. The cars would go as far as California.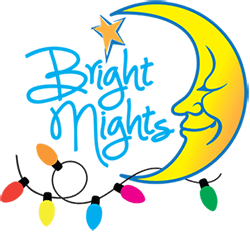 Big Y World Class Markets will be selling general admission tickets for just $16.50 per car starting November 11th. These tickets can be used any night during the 2021 season, and they make great gifts, stocking stuffers, and teacher gifts.
November 24th to January 2nd – Closed November 29th – 30th