Bright Nights at Forest Park will kick off its 28th season on Wednesday, November 23, with a special guest flipping the switch on all 675,000 lights.
The Bright Nights at Forest Park experience can include activities outside of the car. Visitors can stop at Santa's Magical Forest for many activities throughout the season. Santa will be there Tuesdays, Thursdays, and Fridays from 5:30pm to 8pm from November 25th through December 23rd.
Area choirs will be performing. There will be free face painting on December 5th, 12th, and 19th. There will be a visit from the Snow Queen and Frost Princess on December 14th.  The Zoo at Forest Park will welcome visitors on December 7th and 14th for an additional fee.
Bright Nights Named Best of the Best
For a third year, Bright Nights at Forest Park has been recognized by the American Bus Association for being the "Best of the Best for 2022. According to the American Bus Association website, buses.org, "Best of the Best honors outstanding travel industry members who go above and beyond for the group tour industry. Categories include Adventure, Culture, Entertainment, Festivals & Events, Food & Beverage, Lodging, and Shopping."
Prior to receiving the "Best of the Best" honors in 2022, 2021, and 2020, Bright Nights at Forest Park was recognized by the American Bus Association as one of the Top 100 Destinations in North America. It features more than 675,000 lights along a three-mile drive that winds its way through the historic park.
Since 1995, Bright Nights has been a unique public/private collaboration between the City of Springfield's Department of Parks, Buildings & Recreation Management and the Spirit of Springfield, a private non-profit organization. Together they have welcomed more than 6 million visitors. It has been calculated that if every bus that had visited were lined bumper to bumper, they would go from Springfield to Cape Cod. The cars would go as far as California.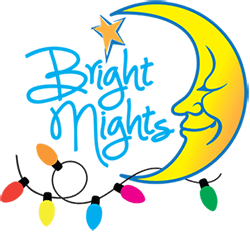 November 23rd to January 1st
Closed November 28th – 29th
Forest Park