Bar Crawls In Western Mass
Western Mass is making a splash in the beer scene with craft breweries, pubs, tasting rooms and scores of beer-related events. Travel the trail and check out some spectacular scenery along the way. Plan to stay awhile or come again to visit them all!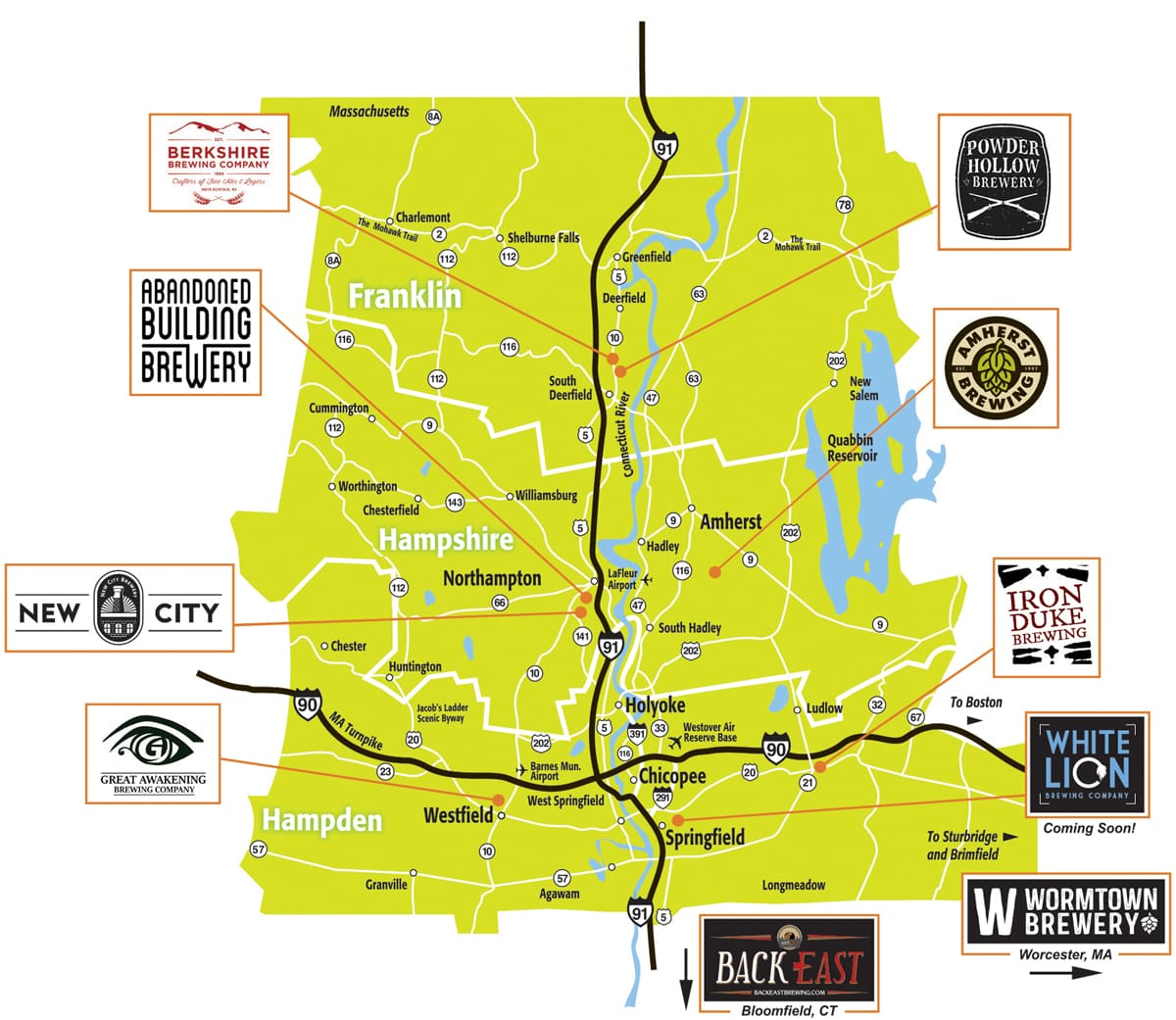 Powder Hollow Brewery is a 3 BBL Brewery connected to Yankee Candle Village in South Deerfield MA.
We offer hand crafted Beer! Stop by for a sample, pint, or 4-Pack to go. Also available we have Pizza from our Partners at Hillside Pizza!
Established in 1994, Berkshire Brewing Company continues brewing fresh batches of ales, lagers, IPAs and sours, creating a broad range of year-round offerings for our devoted fans.  Come share a pint with us in our Taproom and Beer Garden!  Family and furry friends welcome!
(photo credit:  Jessica Marie Photography)
Brew Practitioners is a craft micro-brewery located in Florence, MA. Brew Practitioners serves 6 classic beer styles that are on tap year-round as well as a rotation of 5 additional specialty and practice beers. The White (Blonde), Yellow (IPA), Orange (Pale Ale), Red (Amber), Brown (Brown) and Black (Stout) beers are aptly named as the recipes are intended to be as close to the classic beer style as is feasible. These simple concoctions are graceful, well-balanced and full of flavor.
The Brew Practitioners' brewing philosophy is simple:   "Brew quality, balanced, drinkable beer that makes the customer want more!"
Abandoned Building Brewery is a traditional craft microbrewery specializing in modern hoppy ales and Belgian Abbey ales. We incorporate as much local and regionally grown hops, barley, and wheat into our beers as possible.
You can enjoy all of our beers at the brewery's comfortable tap room while listening to live music on most nights. Tap room hours are Thursday and Friday 5-9pm, Saturday 12-9 pm, and Sunday 1-6 pm.
Westfield MA Independent Craft Brewery and Taproom. Join us in our spacious, newly updated taproom and brewery for craft food and beer! Located in Westfield's historic Mill at Crane Pond, enjoy a selection from our 32 beers on tap while taking in views of Westfield's scenic Little River dam and of our operating production brewery!
New City Brewery is a specialty microbrewery, producing one-of-a-kind hard ginger beers and handcrafted ales and lagers in small batches. Available region-wide and fresh at the brewery in our taproom. Open 7 days a week.
Established in 2019 by two local friends, we are a brewery and taproom located in a historic building next to Unity Park in Turners Falls. We craft and serve everything from bright IPA's and creamy stouts to fruited sours and seltzers. Family and pet friendly, our staff is always ready to welcome you to our
family and our neighborhood.
Crafting fine ales and lagers since 1997. Located at the Hangar Pub and Grill in Amherst, MA. 13 of our beers can be found at the Hangar bar all the time. Our 16 tap self-service beer wall, Flight School, allows you to taste 1 oz or have a full pint of constantly rotating beers from us with many being made specifically for the beer wall. Many of our beers are available in 16oz cans and we also offer growler fills of most of our beers on tap. We also have over 30 retro arcade games available for play all day.
Iron Duke Brewing at the Historic Ludlow Mills complex in Ludlow, Massachusetts. The rustic taproom offers a New York like feel right here in Western Mass. Full pint service, beer flights, growlers-to-go and occasionally a food truck outside. Over 8 beers on tap (take a peek at www.irondukebrewing.com to see what's on tap this weekend.) Iron Duke's mission is to produce high quality, handcrafted beer and provide an inviting, friendly culture of hardworking individuals while maintaining an authentic and unique personality.
Open:
Thursday 3:30 – 8 p.m. – Friday 3:30- 10 p.m.
Saturday noon – 10 p.m. – Sunday noon – 4 p.m.
White Lion, the first craft brewery in Springfield, Massachusetts, embraces the consumer with a sophisticated experience while preserving a local familiarity. White Lion Brewery attracts and indulges beer connoisseurs with a memorable experience leaving them yearning to consume only White Lion products. More than a brewer, White Lion is a catalyst for Springfield's revitalization; it is an urban revivalist.
The brewery officially opened on March 17, 2010 and we really weren't sure what to expect. Worst case we'd have a lot of beer to share with our friends! But support came quickly with restaurants like Flatbread (Sommerville), Horseshoe Pub, Peppercorn's and Prezo's carrying our beers early on. Then the awards started coming in. Medals at the GABF & GIBF that first year. A World Beer Cup Silver the third year. More GIBF medals, Denver International Beer Fest gold medal and the ultimate honor to date: The Grand National Champion at the US Open Beer Championships with 3 Gold Medals and a Silver in Atlanta.
Wait the name? Well Wormtown was simply way cooler than Worcester Brewing Company. And it allows us to have a little 3 decker attitude that we can put into our beers!
Back East Brewing Company is a Craft brewery located in Bloomfield, CT. Founded by Tony Karlowicz and Edward Fabrycki, Jr., two cousins with a passion for great-tasting, high-quality beer, Back East opened their doors in July 2012 and is now distributed throughout Connecticut and Western Massachusetts on draft and in cans. We love having people visit our tap room and hope you can stop by.
Best of Western Mass
Exclusive info and promotions sent directly to your inbox monthly.