Where To Find Apples In Western Mass & How To Get Them!
When Fall comes around, it seems as if pumpkins get all the attention! What about them apples?
An apple a day does keep the doctor away, at least that's what they say. While you're visiting the area be sure to get your apple fix in. Just like Georgia is known for its peaches, Western Mass claims the apple! What can I say, it's the fruit of our labor.
Atkins Farms – Cider Donut
The cider donut at Atkins Farm has the reputation of being the best cider donut in the country! Moist and irresistible is the name of the game with just the right amount of local apple cider in every batch. They are so popular that you can get them shipped to your doorstep!
Richardson's Candy Kitchen – Chocolate Covered Apples
The chocolate-covered apples at Richardson's Candy Kitchen are only available while supplies last. Made fresh with local Honeycrisp apples from nearby Clarkdale Fruit Farms — dipped in caramel, then milk chocolate, and drizzled with colorful fall designs.
Yankee Candle's – Macintosh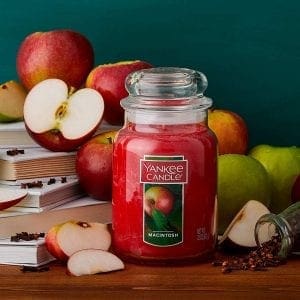 You can't eat this one, but it will bring delight to your senses. Macintosh (candle) by Yankee Candle is a local favorite every fall. Fill your home with this crisp and awakening aroma. Great to bring home as a souvenir!
Springfield Business Improvement District – Winter Farmers Market
Buy the real thing! Winter Downtown Farmers' Market put on by the Springfield Business Improvement District, will take place every Friday until the end of January. The market was developed to bring local produce to the downtown Springfield community. The apple season is almost over so get your local apples at 1391 Main Street on Fridays!
Historic Deerfield- Open Hearth Cooking Demonstration
Cook the old-fashioned way! Apples were a major nutrition source in Colonial New England and used regularly in cooking. English settlers stored their fresh apples in barrels to be used during winter. This class will teach students how to bake with sweet cider and heirloom apples from Clarkdale Fruit Farms.
It is safe to say that Western Mass produces the best apples in New England and no matter where you go to get your apple fix, it is sure to be a pleasant experience!