Upcoming Events In Western Mass
We strive to post the most current and accurate event information but changes and cancellations do occur so please check the official event website to confirm all details.
When you think back to some of your favorite childhood moments, very few of them probably happened when you were sitting at home watching TV. Instead, your most poignant memories probably revolve around that time you ended up with the home run ball at a baseball game, and the crowd cheered and you felt like a rock star, or at least like Babe Ruth.
Or maybe it was that time your family attended The Big E together and your dad bought you cotton candy and let you get all sticky-faced, and you watched your mom beat the midway games, and you felt like your heart was going to overflow with contentment and happiness.
In Western Massachusetts, events bring us together to celebrate our successes and recollect on our heritage. We've put together a list of some of the top yearly events in Massachusetts, things we and our local friends love doing to feel connected to our area and our community.
Top Yearly Western Massachusetts Events
Because of the beautiful area where we live, there are distinct Western Massachusetts-specific events that take place in each and every season. From leaf peeping in the fall to river rafting in the spring to skiing in the winter, you can find a wide range of things to do throughout the year, and some of our local events reflect the joyous beauty of our seasons.
Top Western Massachusetts Events for Spring
Springfield Annual Pancake Breakfast
Does anything scream "neighborly get-together more than a pancake breakfast? If your mouth is already watering over the thought of fluffy, buttery, syrupy goodness, you're not going to want to miss the Springfield Annual Pancake Breakfast, typically hosted in May in downtown Springfield.
Bring your appetite, because it's billed as the World's Largest Pancake Breakfast, and be ready to feast on both good food and friendly conversation.
Paradise City Arts Festival (Northampton)
This Paradise City Arts Festival is ranked among the best in the country, and includes exhibits from more than 250 artists in all mediums. Artists flock to Western Massachusetts from around the country to be part of this visually dazzling display.
Come out to enjoy the weather that's not quite summer, not quite spring, and stay to buy way too much from the vast selection of contemporary art pieces on display.
Brimfield Outdoor Antique Show
With spring in the air, you'll want to get out and enjoy the largest outdoor antique and collectible show in the country. The Brimfield Outdoor Antique Show features over 5000 dealers throughout the quaint country town of Brimfield. And once is never enough – they do this in July and September, too!
Top Western Massachusetts Events for Summer
Baseball Season Opening Night
Baseball is the quintessential American pastime, and there's really nothing that can top the nostalgia of being present on opening night.
The Westfield Starfires and Valley Blue Sox will kick off their seasons right at the start of the summer, and both promise to bring plenty of excitement to the community. Be sure you arrive ahead of gametime to root, root, root for the home team.
Yankee Candle Christmas in July
We love the unforgettable scents of the holiday season. Fir and balsam, spicy gingerbread, warm apple cider – the list could go on and on.
So naturally, Christmas in July is a must. At the flagship Yankee Candle Village, you can enjoy the holiday season, snap selfies with Santa (who might have traded in his traditional red velvet for a more relaxed Hawaiian shirt vibe) and enjoy crafting with Mrs. Claus.
It's just what you need to get a little dose of holiday spirit and deal with the fact that you probably won't be decorating your tree for at least a couple more months.
Basketball Hall of Fame Enshrinement
Meet Basketball's best in the birthplace of the sport! Each summer, the Naismith Memorial Basketball Hall of Fame enshrines the best in the sport in Springfield. Rub elbows with the greatest to play the game and save time for a tour of the Hoop Hall.
Top Western Massachusetts Events for Fall
The Big E
Would this even be a reliable listing of Western Massachusetts events if The Big E weren't included? The community gathering, more formally known as the Eastern States Exposition, is the biggest and best county fair you could imagine.
Every fall, The Big E brings together amazing food, parades, musical entertainment, agricultural exhibitions, car shows and more. There's so much to see, do and taste – you'll need more than one day to fully enjoy all The Big E has to offer.
Six Flags New England's Fright Fest
Each autumn, Six Flags New England transforms into a fright-filled funzone for teens and adults. You'll find scary shows, walk-through attractions and thrill rides that make the most of the season.
Top Western Massachusetts Events for Winter
Springfield Thunderbirds
The Springfield Thunderbirds are a professional ice hockey team in the American Hockey League affiliated with the National Hockey League's St. Louis Blues. Based in Springfield, Massachusetts, the Thunderbirds play their home games at the MassMutual Center.
Springfield, Parade of the Big Balloons
Can't quite make it to New York City for the Thanksgiving parade? We've got you covered, with the Parade of the Big Balloons in downtown Springfield.
Enjoy bands, community gatherings and balloons that represent the best Western Mass has to offer – our favorite is definitely the 75-foot Cat in the Hat balloon.
Bright Nights at Forest Park
Holiday memories are made at Bright Nights at Forest Park. It's just not the holiday season until you've driven through this holiday lighting extravaganza! Look for Santa's Magical Forest, Dinosaur World and Seuss Land – it'll become an annual tradition after the first mile.
Holyoke St. Patrick's Day Parade
Run, walk or float over to the Holyoke St. Patrick's Day Parade. This celebration of Irish heritage brings more than 400,000 guests to the community for a parade, music, food and fun.
It also includes traditional performances by the Holyoke Caledonian Pipe Band and the Road Race, Western New England's largest race (featuring a 10k, a 2 mile walk and a Kids Fun Run).
Community events help us to celebrate what we have in common – a love of the arts, of sport, of nature. The human connection these events create is so important to both mental and physical well-being.
If you'd like to learn more about these community events and dozens of others coming up in Western Mass, or about the top yearly events in Massachusetts, check out our Events listings and customize a schedule just for you. Or, contact us, and let our team of knowledgeable locals help you prepare for a fun and unforgettable Western Mass adventure.

The Big E Court of Honor Concerts
Catch headliners, variety shows and more at The Big E, Sept. 17-Oct. 3, in West Springfield, Mass. The tented venue, located in front of the iconic Coliseum at the heart of the fairgrounds, hosts more than 85 shows over the 17-day run of The Big E. All events on the Court of Honor Stage are free with admission to Fair. Seating is available on a first-come, first-served basis.
Jesse McCartney, Sept. 17, 8pm
American singer, songwriter and actor, Jesse McCartney first hit the music scene as a solo artist with the iconic song and multi-platinum album "Beautiful Soul", and quickly made his way from pop star to serious working artist when he co-wrote the Grammy Award-winning single "Bleeding Love" with Ryan Tedder, performed by Leona Lewis. The international mega-hit was Grammy-nominated for Record of the Year, reached No. 1 in 35 countries, and became the best-selling single of 2008 worldwide, while his own single "Leavin'" was topping radio charts that summer. Other top hits including "Body Language" (featuring T-Pain), "How Do you Sleep" and "Shake" followed. Jesse released singles and music videos for singles "Yours" and "Friends" in 2020 to give fans their first look at his upcoming album due 2021.
Foghat, Sept. 19, 8pm
Foghat's thunderous blend of Blues, Boogie and butt-kickin' Rock 'n' Roll has been going strong since the 70s. While never deviating from their style, they retained a large audience, selling out concerts across America and earning several gold and platinum albums. Now led by original member Roger Earl, Foghat's legacy continues with new releases—including 2016's Under the Influence and their upcoming live CD/DVD/Vinyl 8 DAYS ON THE ROAD, available July 16, 2021—and live show as intense as ever with the incredible energy and musicianship that one would expect from the seasoned band with such a long musical history.
Rainere Martin in The Donna Summer Experience, Sept. 20-21, 3pm
From her first step on stage through her medley of disco hits, Rainere Martin portrays all that was magical of the beautiful and talented Donna Summer's legendary career. Rainere learned at an early age that she could use her voice to lift up souls and bring joy to all who heard her sing. With an initial focus on R&B ballads, an appreciation for artists of all eras, and a desire to find her right niche, Martin's early explorations had her performing in theater, music videos, motion pictures and television.  However, it was the musical pulse of the 70s and Donna Summer—the era's great headliner—that stuck in her memory. She explains, "It was a realization that I just didn't sing Donna's songs, I felt them." Martin's performances electrify audiences with her uncanny resemblance to Donna's style, grace, energy, and of course, voice.
The Yardbirds, Sept. 20-21, 8pm
The Yardbirds are more than a Rock band; they are an institution, which from 1963 to 1968, made an indelible mark on the "Shapes of Things" to come. To the casual music fan, The Yardbirds are best known as the band that honed the skills of future "guitar gods" Eric Clapton, Jeff Beck and Jimmy Page; and for their slew of chart hits, including "For Your Love," "Heart Full of Soul" and "I'm A Man." Their 1968 break-up set the stage for Rock 'n Roll's future, leading Jimmy Page to form the New Yardbirds, later re-christened Led Zeppelin. Today's touring lineup includes: singer/harpist/percussionist, Myke Scavone; guitarist/singer, John Idan; drummer, Jim McCarty; guitarist Godfrey Towsend; and bassist, Kenny Aaronson.
Exile, Sept. 22-23, 3pm
When Exile formed in 1963, the band's intent was to play small clubs in Kentucky. Now, nearly six decades and multiple chart-topping hits later, the original members are still rocking. The band's most successful song, "Kiss You All Over" spent four weeks atop of Billboard's Pop chart in 1978 and was featured in the pop culture film classics "Happy Gilmore" and "Employee of the Month." During their run on the Country charts, Exile released 10 no. 1 singles including "I Don't Want To Be A Memory" and "Give Me One More Chance." Current members of the band include J.P. Pennington, Les Taylor, Sonny LeMaire, Marlon Hargis and Steve Goetzman.
Big Bad Voodoo Daddy, Sept. 22, 8pm
Together for more than 28 years, Big Bad Voodoo Daddy has appeared in concert venues across the world, sold millions of records, and had their music appear in hundreds of movies and television shows. With sold out concerts from the Hollywood Bowl to Lincoln Center, appearances with many of the nation's finest symphony orchestras, and television appearances ranging from Dancing with the Stars to Superbowl XXXIII, Big Bad Voodoo Daddy continues its decades-long mission to celebrate and revitalize Jazz and Swing music, America's original art form, and bring joy to audiences around the world.
10,000 Maniacs, Sept. 23, 8pm
This year marks the 40-year anniversary of the inception of 10,000 Maniacs. Founded in 1981 in Jamestown, NY, 10,000 Maniacs has become recognized as one of the most enduring bands from the early Alternative Rock movement, having released close to 20 albums. Their critically acclaimed, break-out album, In My Tribe, was included in Rolling Stone's "100 Best Albums of the Eighties."  In 1993, 10,000 Maniacs made their iconic performance on MTV's "Unplugged" and the released recording of that show would go on to sell millions of copies. All told, the band has sold over 10 million albums, with 8 Billboard Hot 100 singles, and has made countless appearances on national TV, including Saturday Night Live, The Late Show With David Letterman, and more.
The Bar-Kays: Soul 2 Soul Revue, Sept. 24-26, 3pm
Memphis-based R&B and Funk pioneers, The Bar-Kays, reigned as one of the top outfits of the 70s and remain one of the hardest working and most honored groups around. The Bar-Kays have a legacy consisting of 29 albums—including five gold and one platinum—plus 20 Top 10 singles and albums. Spontaneity and excitement have been a trademark of the group ever since its inception. Today, The Bar-Kays have reloaded their high-energy act and are ready to guide whole new generations onto the dance floor with a reinvigorating lineup. 
Ying Yang Twins, Sept. 25, 8pm
Atlanta's party Rap duo, Ying Yang Twins, consist of Eric "Kaine" Jackson and Deongelo "D-Roc" Holmes. They rose to prominence after forming in 2000 and releasing the single "Whistle While You Twurk," which received nationwide airplay on urban and crossover radio. Their full-length debut album, Thug Walkin', appeared the same year. The duo was featured on Lil Jon & The East Side Boyz hit single "Get Low," which reached no. 1 on the Billboard Hot 100, and have a catalogue that boasts numerous party anthems including the massive club hit "Salt Shaker," "Wait (The Whisper Song)," "Badd," "Shake," and more.
Don McLean, Sept. 26, 8pm
Don McLean is a Grammy award honoree, Songwriter Hall of Fame member and BBC Lifetime Achievement award recipient. His smash hit "American Pie" resides in the Library of Congress National Recording Registry and was named a top 5 song of the 20th Century by the Recording Industry of America (RIAA). The New York native is one of the most revered and respected songwriters in American history. He has scored mega-hits like "Vincent (Starry, Starry Night)," "Castles in the Air" and many more. In 2015, one of McLean's four handwritten manuscripts of the lyrics to "American Pie" was auctioned by Christies, selling for more than $1.2 million. McLean received a star on the Las Vegas Walkway of Stars in 2019 and his song "And I Love You So" was the theme for Prince Harry and Megan Markle's wedding. This year marks the 50th anniversary of American Pie. ​
The Outlaws, Sept. 27-28, 8pm
Southern Rock legends, The Outlaws, have celebrated triumphs and endured tragedies to remain one of the most influential and best-loved bands of the genre over the last 40 years. The band's catalogue of classic hits including, "There Goes Another Love Song," "Green Grass & High Tides," "Knoxville Girl" and "Freeborn Man" are worldwide gold and platinum landmarks of the Southern Rock era. Today, The Outlaws have returned with new music, new focus and an uncompromising new mission: It's about a band of brothers bound together by history, harmony and the road.
Big Brother and the Holding Company, Sept. 29-30, 3pm
Big Brother and the Holding Company is considered one of the original, first wave of great psychedelic bands that came out of San Francisco in the summer of 1965. Founders Peter Albin and Sam Andrew met James Gurley and Dave Getz who joined the band in 1966. To complete their sound, the legendary Janis Joplin joined as lead singer. The Monterey Pop Festival in the summer of 1967 was the first great international Rock festival and it was the moment when Big Brother and Joplin blew open the collective mind of the audience and rose to the top of the Rock music hierarchy. Fast forward to 1987 when the four original members would re-group to perform again. Since then, the group has toured continuously around the world. After losing James Gurley in 2009 and Sam Andrew in 2015, Albin and Getz continue to present the music of Big Brother and the Holding Company to the world.
Lisa Lisa, Sept. 29, 8pm
One of the greatest Latin Hip-Hop/Freestyle/Pop divas to come out of the 80s music scene is the legendary Lisa Velez, also known as Lisa Lisa of the super group Lisa Lisa & Cult Jam. The group shot straight up the charts scoring multiple platinum hits with their first few albums. Their freshman album, Lisa Lisa & Cult Jam with Full Force, featured the breakout songs, "I Wonder If I Take You Home" and "Can You Feel The Beat." Those two hits aided in the launch of the underground genre, Freestyle Music. Lisa Lisa & Cult Jam sealed that success with their third album, Straight to the Sky, releasing another no. 1 Pop single, "Little Jackie." The early 90s introduced a new sound, merging dance music and Hip-Hop, and Lisa Lisa & Cult Jam rode that wave to a fourth album, Straight Out Of Hell's Kitchen. Currently, Velez is working with Robert Drieslein of Bobby Dee Productions and Uncle Snoops Army (the legendary Snoop Dog) on new projects.
Tribute to the King, featuring Taylor Rodriguez, Oct. 1-3, 3pm
Get ready to take a musical journey back to the 50s, 60s and 70s with Tribute to The King performed by Taylor Rodriguez. Rodriguez is ranked among the top Elvis tribute artists in the world and has been endorsed by the estate of The King himself, Elvis Presley Enterprises (EPE). In 2019, Rodriguez was crowned champion of Tupelo Elvis Festival and was named the Ultimate Elvis Tribute Artist by EPE.
Hoobastank, Oct. 2, 8pm
This year marks the 20th anniversary of their self-titled debut studio album, Hoobastank, which went platinum. These SoCal rockers can't wait to hit the road in 2021 to celebrate 20 years of the success of songs such as "Crawling in the Dark" and "Running Away." They will be playing all the hits, including "The Reason," the namesake song from their 2003 follow up 2x platinum studio album. "The Reason" has garnered incredible success and solidified Hoobastank as a household name. The song has been streamed over 2 billion times across all digital platforms and continues to live on for the next generation of music lovers. Hoobastank is Doug Robb, Dan Estrin, Chris Hesse, and Jesse Charland.
Darryl "DMC" McDaniels of RUN DMC, Sunday, Oct. 3, 8pm
Darryl McDaniels or "DMC" as most of the world knows him, is a founding member of the multi-platinum, groundbreaking Rap group RUN DMC. McDaniels broke down cultural barriers with his legendary band and helped transform Rap and Hip-Hop into the most popular music in the world. It would be hard to overstate his influence on popular culture. Forty million record sales later, DMC continues to create, inspire and motivate. He was inducted into the Rock and Roll Hall of Fame as a member of RUN DMC, received a Grammy Lifetime Achievement Award from the Recording Academy, launched a comic book company called Darryl Makes Comics and is co-author of two critically acclaimed books.
AND DON"T MISS…
Tom Franek, Sept. 17-26, 11am, 1 & 6pm
Tom Franek has been dubbed a "Modern-Day Victor Borge." His award-winning shows combine skillful musicianship with fun-filled comedy in an unforgettably unique way. More than a quarter of a million viewers from around the world watch his videos on social media, not to mention his numerous live appearances which have been broadcasted on primetime TV in the United States and Europe. Esquire published that Franek's performances emulate "the showmanship of Jerry Lee Lewis and Liberace."
The Everly Set, Sept. 27-Oct. 3, 11am, 1 & 6pm
Acclaimed singer-songwriters Sean Altman (founder of Rockapella) and Jack Skuller (Disney Recording Artist) present the ultimate concert celebration of the legendary Everly Brothers. The Everly Set whisks audiences to 1957 when teens Phil and Don Everly first supercharged the sound of Rock'n'Roll with the sparkling harmonies that influenced The Beatles, Simon & Garfunkel, The Beach Boys, The Bee Gees and The Eagles. The Everly Set's vocals and keen wit will have you singing, laughing and dancing in the aisles to hits like "Bye Bye Love," "Wake Up Little Susie," "Cathy's Clown," "All I Have To Do Is Dream" and "When Will I Be Loved."
Tickets, which include general admission to The Big E, are available at TheBigE.com or The Big E Box Office.
Click here for a schedule of all this year's Events.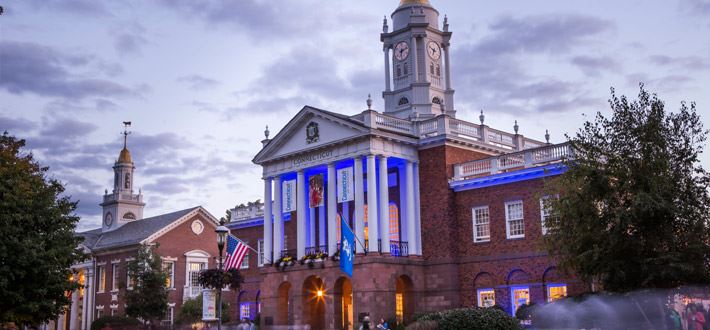 Please note that no weapons are allowed on the grounds. Metal detectors are in use at every entrance gate to the fairgrounds. Bags are subject to search at gates.
Eastern States Exposition, home of The Big E, will enforce COVID-19 regulations required by the Commonwealth of Massachusetts and Town of West Springfield at the time of this engagement.