The Big E!!
September 14

-

September 30
SHOP 'TIL YOU DROP
Only at The Big E can you go home with a set of steak knives, a hot tub, a sweater made from Alpaca fiber and maybe even a tractor. With everything you could ever want all in one place, it's better than any mall in the world!
GET YOUR "AG" ON!
Agriculture is one of Eastern States Exposition's oldest traditions and Farm-A-Rama is the heart of agriculture during The Big E. Visit the chick hatchery, pet a goat, learn about the secret life of bees and all things farm in the Stroh Building.
GO BACK IN TIME
See how 19th century New Englanders lived and worked at Storrowton Village.
Explore the new Gears & Fears Steampunk Shop and favorites like the Christmas Shop and Yankee Candle Shop. Storrowton Day, Sept. 16, will have special events and a reading of the new "Big E Book" for kids.
SPRINGFIELD NAVY WEEK
The Big E welcomes the U.S. Navy to the Fairgrounds Monday, Sept. 17 – Friday, Sept. 21. Band performances, demos and Leap Frog jumps for all to see!
DIVE INTO THE NAVY WEEK SCHEDULE
Click here for a schedule of all this year's Events.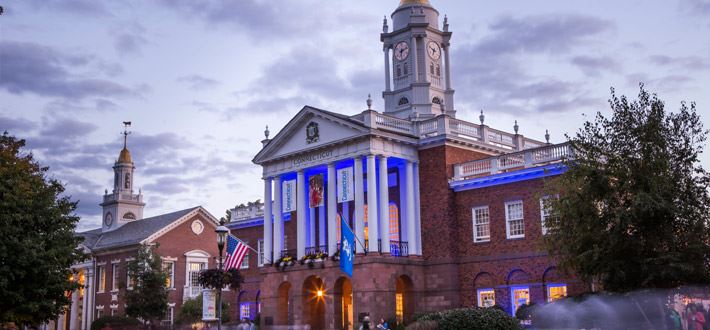 BIG E 2018 SPECIAL AND STATE DAYS
Friday, Sept. 14 – Be A Kid For A Day, Military Appreciation Day
Saturday, Sept. 15 – Maine Day & 4-H/FFA Day
Sunday, Sept. 16 – Storrowton Day & Chalice of Salvation Sunday
Monday, Sept. 17 – Salute to West Springfield
Tuesday, Sept. 18 – Rhode Island Day & Salute to Holyoke
Wednesday, Sept. 19 – Connecticut Day
Thursday, Sept. 20 – Massachusetts Day
Friday, Sept. 21 – New Hampshire Day
Saturday, Sept. 22 – Vermont Day
Sunday, Sept. 23 – Grange Day
Monday, Sept. 24 – Salute to Springfield
Tuesday, Sept. 25 – Salute to Chicopee
Wednesday, Sept. 26 – Salute to Agawam
Thursday, Sept. 27 – Salute to Westfield
Friday, Sept. 28 – Harvest New England Day
Saturday, Sept. 29 – TBD
Sunday, Sept. 30 – Salute to Special Olympics
HOURS
Gates: 8amAvenue of States: 10am – 9pm
Storrowton Village: 10am – 9pm
Most Exhibits & Buildings: 10am – 10pm
Midway: Sunday – Thursday, 11am – 10pm; Friday, 10am-11pm; Saturday, 10am – 11pm
Craft Common: 10am – 10pm
Agricultural Events: Agricultural activities begin early in the morning and are open to the public in the Mallary Complex.
GENERAL ADMISSION
All prices are subject to change. Advance purchase admission ticket will be accepted for admission any day. Midway rides, exhibits, games and admission to paid concerts at the xfinity arena are not included with a general admission ticket.
Regular Gate Admission
Adults $15/Children ages 6-12 $10; Children five and under are free.
17-Day Value Passes are $40 for adults and $20 for children ages 6-12. Value Passes are available online now through Sept. 30 and at Big Y® World Class Market® Aug. 23 – Sept. 30.
Midway Magic Passes
$30 – valid any one day Mon. – Fri.
Gate tickets and Midway passes sold online at TheBigE.com and Big Y® World Class Market®, Sept. 13 – 30
Gate Discounts
Six-After-Five – Admission is only $6 after 5pm Mon. – Thurs.
Senior Days – Age 60 and over just $12 Mon. – Thurs.
BIG E TRAIN SHUTTLE SCHEDULE
The Big E announces free weekend shuttle services from Springfield's Union Station for CTrail and Amtrak Hartford Line customers. The free Big E shuttle will operate on weekends, September 15-16, 22-23 and 29-30.
All weekend CTrail train schedules are available at www.hartfordline.com. The shuttle will be a white Big E van and will board passengers at the Pick-Up/Drop-Off area at Springfield's Union Station's Frank B. Murray Street side. At The Big E, the shuttle Pick-Up and Drop-Off is located at the Transportation Center near the Fair's Gate 1.
Please note that no weapons are allowed on the grounds. Metal detectors are in use at every entrance gate to the fairgrounds. Bags are subject to search at gates.
Future Fair Dates: Sept. 13 – 29, 2019 ~ Sept. 18 – Oct. 4, 2020