Old Sturbridge Village is currently open Fridays, Saturdays. and Sundays from 9:30 am to 4:00 pm. The Village will also be open every day of February school vacation week, February 20th-24th.
Discovery Adventures are immersive day programs that give kids a chance to step back in time and experience life in the 1830s at Old Sturbridge Village. Every session offers kids the opportunity to explore an aspect of 19th-century history and daily life. All programs include an afternoon snack, hands-on crafts, and the chance to learn something new while making lasting friends and memories.
Registration Notes
Pre-registration is required for Discovery Adventure Programs.
Registration closes at 7:00 am on the Wednesday before the start of each session.
Sessions frequently sell out, early registration is encouraged.
Winter was perhaps the least busy season in early nineteenth-century rural New England, compared to the busy planting, growing, and harvesting seasons, but there was still plenty to do. Visitors to the Village can currently see some of the activities that kept families busy in the winter, such as candlemaking, caring for the year's preserves, and other vital household tasks. Our tradespeople are also busy, working on everything from needlework to pottery to cabinetmaking to blacksmithing!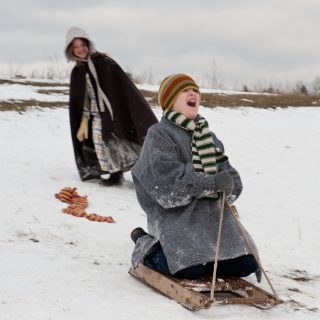 Have you visited the Miner Grant Store recently? Find a wide assortment of Village made wares, specialty foodstuffs, maple-themed products, toys, and more! Stop in to buy our famous chocolate chip cookies and treats.