Norman Rockwell Museum, Exhibits
September 14

-

October 27
Exhibitions Through October 27, 2019
Woodstock to the Moon: 1969 Illustrated
From man's first steps on the moon to a gathering of 400,000 concertgoers on a farm in Upstate New York, 1969—the year of the Museum's founding—witnessed momentous cultural transition. Culled from the Museum's collection and private and public collections around the country, this exhibition illuminates how Rockwell and other illustrators portrayed their times and reflected popular culture during the final year of a tumultuous decade. Major sponsors: Brenda and Jeff Bleustein, Audrey and Ralph Friedner, Dena M. Hardymon and TD Bank.
Norman Rockwell: Private Moments for the Masses
This exhibition offers a behind-the-scenes look at the autobiographical elements in Rockwell's work, examining his carefully constructed fictional scenes for the covers and pages of American publications. Major sponsors: Audrey and Ralph Friedner and TD Bank.
Inspired: Norman Rockwell and Erik Erikson
Discover how artist Norman Rockwell and psychotherapist Erik Erikson, both giants in their fields, fueled and influenced aspects of each other's work.  Major sponsors: Audrey and Ralph Friedner and TD Bank.
For the People: Memories of the Old Corner House
Commemorative installation for the 50th Anniversary of the founding of Norman Rockwell Museum at The Old Corner House on Main Street, Stockbridge.
Through October 31
A Day in The Life: Norman Rockwell's Stockbridge Studio
Explore Norman Rockwell's original Stockbridge studio, reinstalled to look as it did in 1960, when the artist was working on his iconic Golden Rule painting.
Available DAILY
Norman Rockwell's 323 "Saturday Evening Post" Covers
Revisit all 323 Saturday Evening Post covers created by Norman Rockwell, who considered the magazine to be the "greatest show window in America."
ArtZone
Explore your "inner Rockwell" by creating your own works of art in the Museum's creativity center. Free for Museum members and children 18 and under, or included with Museum admission.
Gallery Talks – Erik Erikson Exhibition and Woodstock to the Moon Gallery Exhibition
Daily through October 27, 10:30 a.m and 2:00 p.m.
Make the most of your visit and let our expert guides introduce you to our special exhibit Inspired: Norman Rockwell and Erik Erikson gallery talks at 10:30 a.m. and Woodstock to the Moon: 1969 Illustrated gallery talks 2:00 p.m. The gallery talks are about 15 minutes in length and are FREE with Museum admission.
Rockwell Gallery Talks
Enjoy daily gallery talks on the art of Norman Rockwell starting at 11 a.m., 12:30 p.m. and 2:30 p.m. Daily gallery talks of the Museum's special exhibitions will be held at 10:30 a.m. and 2 p.m. Free for Museum members and children 18 and under, or included with Museum admission.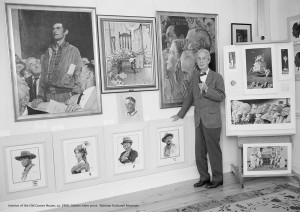 A Museum Built by Popular Demand
(A segment by Laurie Norton Moffatt originally written for the Museum's 40th Anniversary Portfolio publication; revised here)
Norman Rockwell did not create his own museum, nor was the Old Corner House founded to be a museum dedicated to Norman Rockwell. Rather, founders Norma Ogden, Patricia Deely, and Rosamond Sherwood, led a civic and philanthropic initiative to save the historic home. Norman and Molly Rockwell were among the town's citizens who joined the undertaking. When the Board was looking for programs and exhibitions for the house museum, which would include displays from the Stockbridge Historical Society, Rockwell generously asked, "Would you like to hang some of my pictures?"
His artwork had recently been returned to him from Curtis Publishing Company, publisher of the Saturday Evening Post in Philadelphia, and most of it was in storage at the Berkshire Museum, in Pittsfield. Several rooms in the Old Corner House were installed with his paintings, hung cheek to jowl, salon style, and on May 31, 1969, the doors were opened for business.
Like the subscribers to The Saturday Evening Post and other journals who eagerly awaited Rockwell's next cover to arrive in their living rooms, public demand drove the growth of the Old Corner House. The 200-year-old home that opened its doors in 1969 with fewer than 5,000 visitors was, 10 years later, welcoming 90,000 visitors annually, with no end to audience appetite for Rockwell in sight.
Only four years after the opening of the Old Corner House, Norman Rockwell established his Art Collection Trust, placing his art in the care of the fledgling museum. Two years later, he added his studio and its contents to the Trust. As crowds continued to grow, the Board of Trustees faced the daunting challenge of providing for the collection's permanent care and accommodating Rockwell's devoted public. In 1980, the Board voted to either expand or build a new home for Norman Rockwell's collection. And thus the nation's most popular artist, who rose from the ranks of the nation's most democratic visual art form, the art of illustration, came to have his own museum through the force of fervent public demand.
To date: Norman Rockwell Museum has welcomed over 6 million visitors in Stockbridge, with 34 years at the Old Corner House, and 26 years at the larger campus on Glendale Road.
About The Old Corner House
The Old Corner House was purchased in 2016 by the Austen Riggs Center, a renowned psychiatric hospital on Main Street in Stockbridge. On May 25, in celebration of its centennial year, Riggs will open part of the Old Corner House with the exhibition, "The Hospital on Main Street: Human Dignity and Mental Health," that chronicles its founding and place in the history of mental health treatment and research.