Norman Rockwell Museum, Exhibits
Finding Home: Four Artists' Journeys, a new exhibition at the Norman Rockwell. On view through Monday, May 25, 2020.
This special exhibition documents the complex emotional realities of adapting to a new life thousands of miles away from where their stories began, through compelling visual memoirs inspired by the personal journeys of four master illustrators, Frances Jetter, David Macaulay, James McMullan, and Yuyi Morales.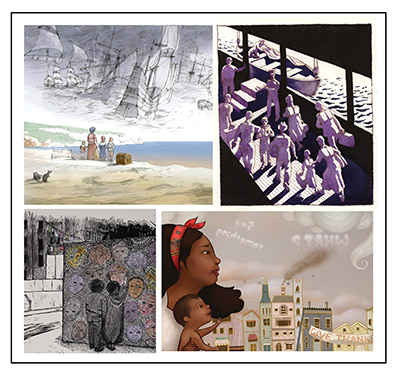 More than 200 original drawings, paintings, linoleum block prints, and digital mixed media works by the artists draw upon memories and family narratives, and on historical research that establishes meaningful contexts for their work. Personal mementos from photographs, travel documents, treasured toys, skates, and tea sets, to articles of clothing, books, as well as video commentary, will illuminate each illustrator's story. The space that images make to inspire conversation will be explored, as will the distinctive qualities of each artist's voice, their aesthetic and technical approaches, and the use of visual symbols as anchors in their poignant sequential narratives.
Frances Jetter's Amalgam is an illustrated history of the life and times of her immigrant labor unionist grandfather, who left Poland in 1911 when it was still part of the Russian Empire. A labor of love, Amalgam has been under construction for almost a decade, and is extraordinary among Jetter's extensive body of work, which includes prints, artist's books, and drawings focusing on political and socially-significant subject matter. Her images have illustrated articles in the New York Times, The Washington Post, TIME, The Nation, the Village Voice, The Progressive, and others. Amalgam is a powerful series of large-scale linoleum block prints carved and often re-worked by the artist, incorporating chine-collé overlays and complex accordion foldouts to tell her compelling family story.
Caldecott Award-winning artist David Macaulay  documents both his own family's immigration story and the state-of-the art ship that made high speed ocean travel possible in his recent book, Crossing on Time: Steam Engines, Fast Ships, and a Journey to a New World. Macaulay brings his signature curiosity, in-depth research, and detailed observations to his own immigration story. The design and construction of the most advanced steamship of its time, the SS United States, and the life of its designer, William Francis Gibbs, are fully explored, framed by Macaulay's own poignant tale, as he and his family crossed the Atlantic on this marvel of technology and engineering.
Leaving China, a memoir by James McMullan, is inspired by his World War II childhood, and the family's travels from China to India, Canada, and the United States. Born in Tsingtao, North China, after the war broke out and his father joined the Allied Forces, McMullan and his mother moved from one place to another—Shanghai, San Francisco, Vancouver, Darjeeling—after his father. Those ever-changing years took on the quality of a dream, a feeling that persists in his stunning watercolor paintings, which compliment a text that tells a remarkable story. In addition, several of the artist's distinctive Lincoln Center theater poster designs, for which he is also known, will be on view.
In 1994, author and illustrator Yuyi Morales left her home in Xalapa, Mexico and came to the United States with her infant son, Kelly, leaving behind everything she owned. Dreamers tells the story of her difficult passage―Morales spoke no English at the time, but she found solace and inspiration in an unexpected place, a San Francisco public library. Book by book, she unraveled the language and customs of an unfamiliar new land and found ways to make a home within it. A celebration of what immigrants bring with them when they leave home, Dreamers is topical, timeless, and relevant as that status of immigrants become increasingly uncertain. Children and their families will enjoy spending time in the Dreamers gallery reading nook, where additional illustrated stories of immigration can be enjoyed.
With Finding Home: Four Artists' Journeys, Norman Rockwell Museum continues its exploration of the immigrant experience, giving voice to immigrants and offering a visual record of a truly American experience.
Finding Home: Record Your Story!
February 16, 2 p.m.
Record your story at the NRM story booth! Bring a meaningful object or image and tell us the story behind it. Select stories will be shared through the digital interactive in the Finding Home exhibition. This project is an extension of the Berkshire Immigrant Stories project developed by the Tenement Museum and Berkshire Community College.
Available DAILY
Norman Rockwell's 323 "Saturday Evening Post" Covers
Revisit all 323 Saturday Evening Post covers created by Norman Rockwell, who considered the magazine to be the "greatest show window in America."
ArtZone
Explore your "inner Rockwell" by creating your own works of art in the Museum's creativity center. Free for Museum members and children 18 and under, or included with Museum admission.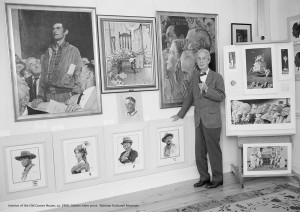 Rockwell Gallery Talks
Enjoy daily gallery talks on the art of Norman Rockwell starting at 11 a.m., 12:30 p.m. and 2:30 p.m. Daily gallery talks of the Museum's special exhibitions will be held at 10:30 a.m. and 2 p.m. Free for Museum members and children 18 and under, or included with Museum admission.
Norman Rockwell's iconic masterpiece, The Problem We All Live With, is the Museum's most requested painting, viewed by over 10 million people since the Museum's inception. His portrayal of a young Ruby Bridges, walking past hurled tomatoes and a harsh racial epithet scrawled on a wall captures the essence of the tense scene on the day she went to her newly desegregated elementary school in the civil rights era of the 60's. The painting, along with Rockwell's Four Freedoms, have been on a two-year, seven-city tour.
After the final stop on the tour, these works of art will return to Norman Rockwell Museum and are ready for periodic conservation, which will ensure some of Rockwell's best known works will be available to future generations.
But we need your help. A GoFundMe campaign has been launched to preserve these iconic Rockwell paintings. All levels of support are welcome, with thank you gifts including:
• $1,000: Private cocktail reception and preview of Four Freedoms in September 2020
• $500: Frank E. Schoonover limited edition print of Hopalong Cassidy
• $250: Print of The Problem We All Live With
• $100: Invitation to the opening reception for Four Freedoms in September 2020
• $50: Two passes to Norman Rockwell Museum
Director and CEO Laurie Norton Moffatt commented, "We invite you to be an art conservator – the one who saves a masterpiece. When you participate in this GoFundMe initiative, you will be fulfilling the wishes of Norman Rockwell himself, who asked that his art be widely shared for education and for enjoyment by the public."
It's up to you to preserve some of Norman Rockwell's most iconic works. You can be the one to assure that Rockwell's masterpieces, which speak to us as powerfully today as they did in his time, will receive the attention they need now. Make a gift today!