Upcoming Events In Western Mass
We strive to post the most current and accurate event information but changes and cancellations do occur so please check the official event website to confirm all details.
When you think back to some of your favorite childhood moments, very few of them probably happened when you were sitting at home watching TV. Instead, your most poignant memories probably revolve around that time you ended up with the home run ball at a baseball game, and the crowd cheered and you felt like a rock star, or at least like Babe Ruth.
Or maybe it was that time your family attended The Big E together and your dad bought you cotton candy and let you get all sticky-faced, and you watched your mom beat the midway games, and you felt like your heart was going to overflow with contentment and happiness.
In Western Massachusetts, events bring us together to celebrate our successes and recollect on our heritage. We've put together a list of some of the top yearly events in Massachusetts, things we and our local friends love doing to feel connected to our area and our community.
Top Yearly Western Massachusetts Events
Because of the beautiful area where we live, there are distinct Western Massachusetts-specific events that take place in each and every season. From leaf peeping in the fall to river rafting in the spring to skiing in the winter, you can find a wide range of things to do throughout the year, and some of our local events reflect the joyous beauty of our seasons.
Top Western Massachusetts Events for Spring
Springfield Annual Pancake Breakfast
Does anything scream "neighborly get-together more than a pancake breakfast? If your mouth is already watering over the thought of fluffy, buttery, syrupy goodness, you're not going to want to miss the Springfield Annual Pancake Breakfast, typically hosted in May in downtown Springfield.
Bring your appetite, because it's billed as the World's Largest Pancake Breakfast, and be ready to feast on both good food and friendly conversation.
Paradise City Arts Festival (Northampton)
This Paradise City Arts Festival is ranked among the best in the country, and includes exhibits from more than 250 artists in all mediums. Artists flock to Western Massachusetts from around the country to be part of this visually dazzling display.
Come out to enjoy the weather that's not quite summer, not quite spring, and stay to buy way too much from the vast selection of contemporary art pieces on display.
Brimfield Outdoor Antique Show
With spring in the air, you'll want to get out and enjoy the largest outdoor antique and collectible show in the country. The Brimfield Outdoor Antique Show features over 5000 dealers throughout the quaint country town of Brimfield. And once is never enough – they do this in July and September, too!
Top Western Massachusetts Events for Summer
Baseball Season Opening Night
Baseball is the quintessential American pastime, and there's really nothing that can top the nostalgia of being present on opening night.
The Westfield Starfires and Valley Blue Sox will kick off their seasons right at the start of the summer, and both promise to bring plenty of excitement to the community. Be sure you arrive ahead of gametime to root, root, root for the home team.
Yankee Candle Christmas in July
We love the unforgettable scents of the holiday season. Fir and balsam, spicy gingerbread, warm apple cider – the list could go on and on.
So naturally, Christmas in July is a must. At the flagship Yankee Candle Village, you can enjoy the holiday season, snap selfies with Santa (who might have traded in his traditional red velvet for a more relaxed Hawaiian shirt vibe) and enjoy crafting with Mrs. Claus.
It's just what you need to get a little dose of holiday spirit and deal with the fact that you probably won't be decorating your tree for at least a couple more months.
Basketball Hall of Fame Enshrinement
Meet Basketball's best in the birthplace of the sport! Each summer, the Naismith Memorial Basketball Hall of Fame enshrines the best in the sport in Springfield. Rub elbows with the greatest to play the game and save time for a tour of the Hoop Hall.
Top Western Massachusetts Events for Fall
The Big E
Would this even be a reliable listing of Western Massachusetts events if The Big E weren't included? The community gathering, more formally known as the Eastern States Exposition, is the biggest and best county fair you could imagine.
Every fall, The Big E brings together amazing food, parades, musical entertainment, agricultural exhibitions, car shows and more. There's so much to see, do and taste – you'll need more than one day to fully enjoy all The Big E has to offer.
Six Flags New England's Fright Fest
Each autumn, Six Flags New England transforms into a fright-filled funzone for teens and adults. You'll find scary shows, walk-through attractions and thrill rides that make the most of the season.
Top Western Massachusetts Events for Winter
Springfield Thunderbirds
The Springfield Thunderbirds are a professional ice hockey team in the American Hockey League affiliated with the National Hockey League's St. Louis Blues. Based in Springfield, Massachusetts, the Thunderbirds play their home games at the MassMutual Center.
Springfield, Parade of the Big Balloons
Can't quite make it to New York City for the Thanksgiving parade? We've got you covered, with the Parade of the Big Balloons in downtown Springfield.
Enjoy bands, community gatherings and balloons that represent the best Western Mass has to offer – our favorite is definitely the 75-foot Cat in the Hat balloon.
Bright Nights at Forest Park
Holiday memories are made at Bright Nights at Forest Park. It's just not the holiday season until you've driven through this holiday lighting extravaganza! Look for Santa's Magical Forest, Dinosaur World and Seuss Land – it'll become an annual tradition after the first mile.
Holyoke St. Patrick's Day Parade
Run, walk or float over to the Holyoke St. Patrick's Day Parade. This celebration of Irish heritage brings more than 400,000 guests to the community for a parade, music, food and fun.
It also includes traditional performances by the Holyoke Caledonian Pipe Band and the Road Race, Western New England's largest race (featuring a 10k, a 2 mile walk and a Kids Fun Run).
Community events help us to celebrate what we have in common – a love of the arts, of sport, of nature. The human connection these events create is so important to both mental and physical well-being.
If you'd like to learn more about these community events and dozens of others coming up in Western Mass, or about the top yearly events in Massachusetts, check out our Events listings and customize a schedule just for you. Or, contact us, and let our team of knowledgeable locals help you prepare for a fun and unforgettable Western Mass adventure.

Norman Rockwell Museum, Exhibits
Pat Oliphant: Editorial Cartoons from the Nixon and Clinton Eras
through May 31, 2021
Pulitzer Prize winning cartoonist Patrick Oliphant was described in 1990 by the New York Times as "the most influential editorial cartoonist" of his time. Spanning more than sixty years, Oliphant's finely-tuned drawings have cast a clear eye on global politics, culture, the economy, and scandals, and his caricatures of American presidents and other powerful leaders are world renowned. In addition to thousands of daily editorial cartoons, he has also produced personal works, including dozens of bronze sculptures, works on paper, and paintings.
This important collection of original works by Oliphant has been generously donated by the Louis and Jodi Atkin Family, devoted collectors who compiled the largest and most significant body of the artist's work in private hands. The Oliphant collection features three prominent aspects of the artist's work⸺his editorial drawings from the Nixon and Clinton years as well as personal drawings, paintings, and sculptures. The donor intends this collection to serve as a means of highlighting political art as a powerful, persuasive, and inspiring form of visual communication. In addition, the collection invites consideration of the role of political illustration in inspiring dialogue, which is of critical importance today as in the past. We are honored to showcase the work of this exceptional illustration master and to preserve and share this important collection for generations to come.
Since the late 19th century, the editorial cartoon has played a provocative role in presidential politics, countering partisan advertising with irreverence. Oliphant hones a distinctive, repeatable caricature of each incoming president. When each fails to live up to expectations, those exaggerated figures begin to age, sag, shrink, weaken, or bloat. Oliphant has summarized his cartoon depictions of each president since Lyndon Johnson in a series of bronze sculptures. His images of Richard Nixon as a haunting and malevolent Napoleon, Gerald Ford as Band-Aided hollow mask, Jimmy Carter as an insignificant miniature, and George H. W. Bush as a wizened horseshoe player, remind us of the powerful impact of satiric portraiture.
through May 2021
Returning to New England this fall after a 6-city international tour is the first comprehensive exhibition devoted to Norman Rockwell's iconic depictions of Franklin D. Roosevelt's Four Freedoms—Freedom of Speech, Freedom of Worship, Freedom from Fear, and Freedom from Want. Norman Rockwell: Imagining Freedom explores how the 1943 paintings came to be embraced by millions of Americans, providing crucial aid to the War effort and taking their place among the most indelible images in the history of American art. The power of images to shape cultural narratives is revealed in this exhibition, which invites viewers to trace the origins and legacy of the Four Freedoms from the trials of the Great Depression and World War II to the Civil Rights movement of the 1960s, and the call for freedom today across racial, gender, ethnic, and religious lines.
Imagining Freedom includes an expansive array of artworks from the 1930s to today in addition to Rockwell's celebrated Four Freedoms. Throughout, historical documents, photographs, videos, artifacts and immersive settings bring each era to life while drawing connections to our times.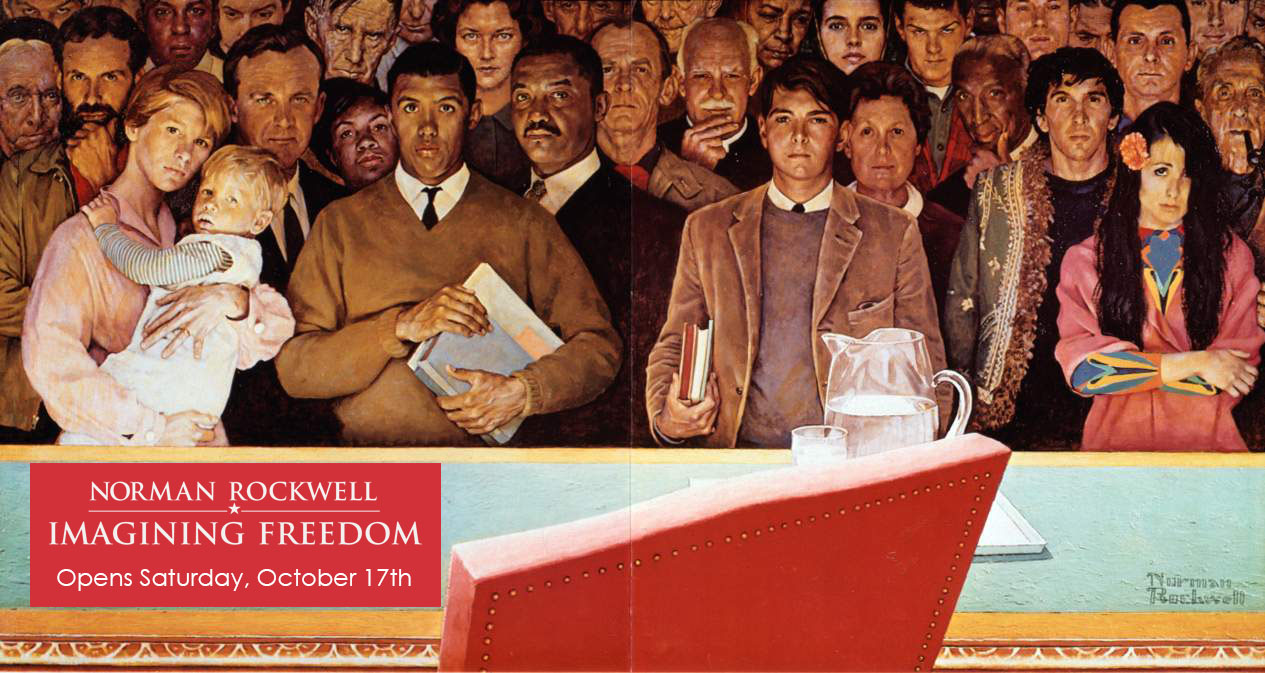 Norman Rockwell: The Art of Persuasion
through May 31, 2021
"No matter how beautiful an advertising picture may be, if it does not sell the product which it advertises, it is a failure."
—Norman Rockwell
While taking classes at New York's Art Students League in 1911 and 1912, Rockwell made a pact with his classmates "never to do advertising jobs," which they considered more commercial than magazine illustration.  But the artist admitted that this promise was quickly broken. Rockwell's narrative style lent itself to advertising, and George Lorimer, editor of The Saturday Evening Post, advised him to charge double the fee that he received for a Post cover.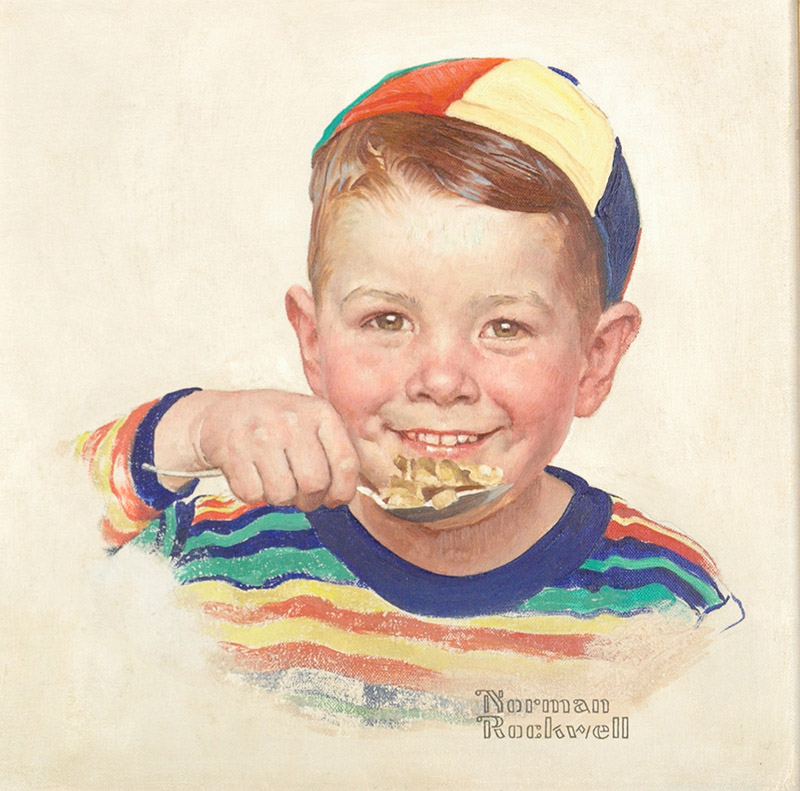 A warm welcome awaits you at Norman Rockwell Museum. Be surprised and delighted at the magnificence of Rockwell's large scale original paintings and discover the highly relatable world of American Illustration – the art that tells our stories. There's always something new to enjoy with ten galleries of ever-changing special exhibitions, engaging programs, a scenic 36- acre campus, and more. Share memories and make new ones.
Hours
Thursday – Monday:  10am-5pm
SPECIAL HOURS:
Seniors and Immunocompromised Patrons: Thursday – Friday: 10am -12pm