The ICC invites you to an afternoon of indie Irish fiddle and folk music with the premier trio House of Hamill – Brian Buchanan, Rose Baldino, and Caroline Browning. Their dynamic performances have been extremely popular in their many years of playing for the ICC, and include original instrumentals, reimagined folk ballads, and original songs that showcase the trio's versatility.
House of Hamill performs on Sunday, November 12 at 3:00 pm at the ICC's Irish House Restaurant and Trinity Pub. Doors open at 1:00 pm. Food and drinks will be available for purchase (not included in ticket cost). Guests are encouraged to arrive early if ordering food.
Tickets are $23 for current ICC Patrons, and $28 for the general public, online fees apply.
Once the main room sells out, tickets will become available for our rear Celtic Room. The room has an obstructed view of the show when seated; guests may stand in the main room during the show. Celtic Room tickets are $25.
This show will sell out! Online sales end at 8 am on November 12. Day-of tickets at the door are $30, cash only.
This is a seated show. Seating location is first come, first served. Seating includes tables with regular height chairs and taller bistro-style. Please let us know if special seating accommodations are required.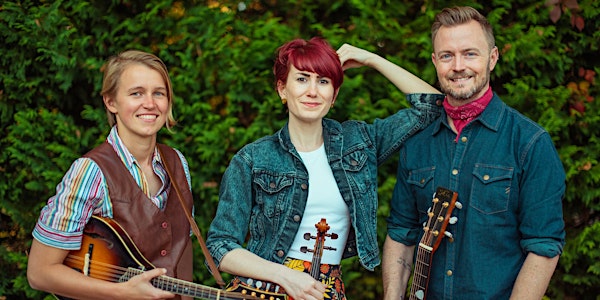 About House of Hamill
Pennsylvania-based House of Hamill was created by Brian Buchanan and Rose Baldino (Enter the Haggis, Burning Bridget Cleary), with bassist Caroline Browning joining four years later. The trio is a fixture on festival stages across the US, and have shared their music and stories on premier folk stages throughout the country and beyond. Their latest release, "Folk Hero," captures perfectly the energy and eclecticism of their always engaging live show. Whether they're ripping through a set of original jigs and reels, adding lush three-part harmonies into traditional folk ballads, or cracking up an audience with stories from the road, House of Hamill puts on a show that captivates audiences from the very first note.
.