On Monday, September 11th at 10am, Springfield's September 11th Remembrance Ceremony will be held in the shadow of the monument. There will be greetings by Springfield Mayor Domenic Sarno, and remembrances by Major General Gary Keefe, The Adjutant General for the Massachusetts National Guard, Commissioner B. J. Calvi, Springfield Fire Department, Superintendent Cheryl Clapprood, Springfield Police Department, and Kimberly D'Angelo, Operations Director for American Medical Response.
In response to the tolling of the fire bell, Emergency response vehicles will roll across the Memorial Bridge. A wreath will be laid on the monument. The program will close with a rifle salute and Taps by the Springfield Police Department.
The annual remembrance ceremony will honor the 498 first responders who lost their lives on September 11, 2001, and whose names are listed on Springfield's monument.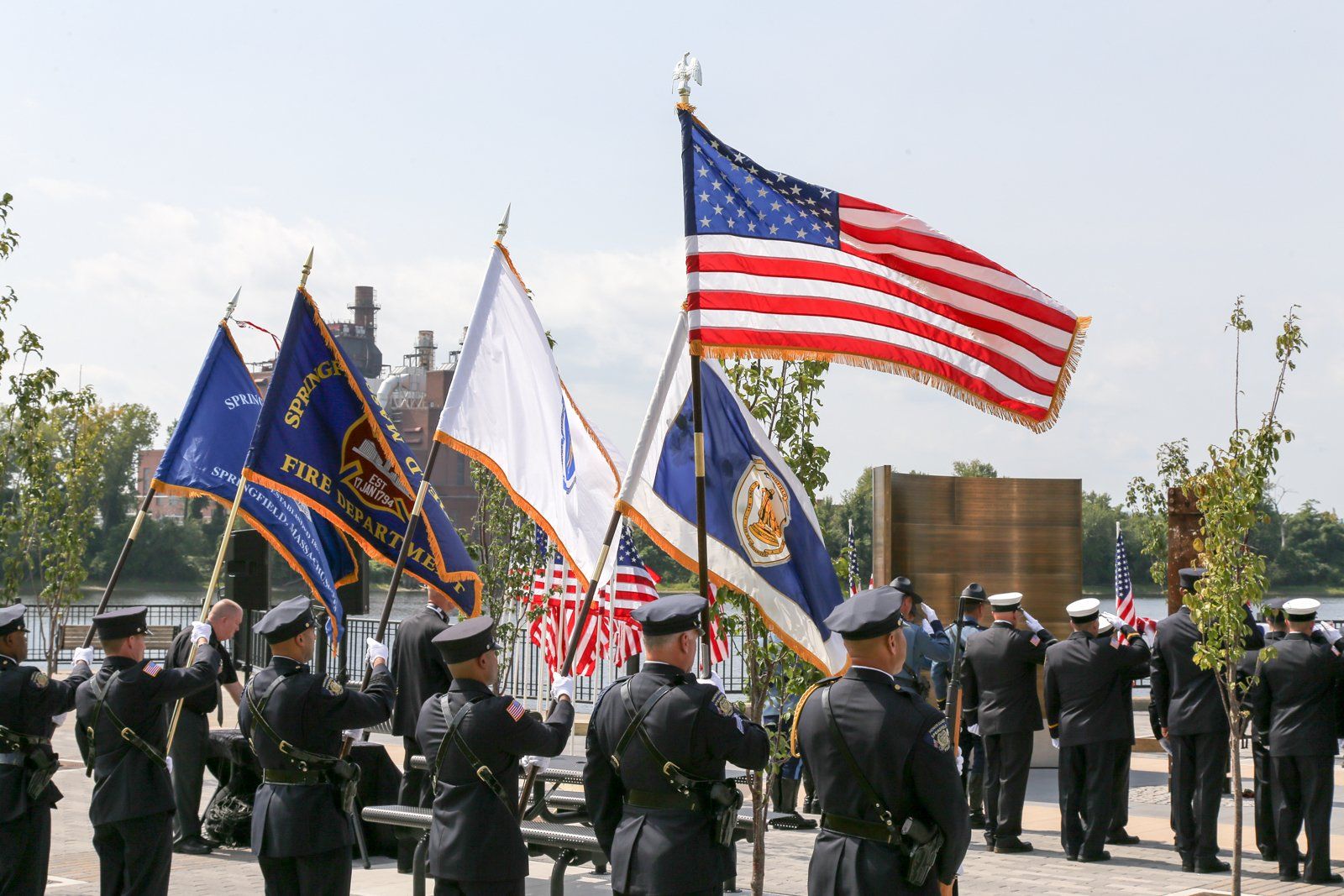 Riverfront Park
The program is open to the public with some seating available.
Springfield's September 11th Monument, includes a giant curved piece of bronze. It is more than 9 feet tall by 12 feet, and contains 498 names.
We encourage everyone to visit Springfield's September 11th Monument and pause to remember the 498 first responders whose lives that were lost that day. There were brothers, cousins, a K-9 officer, members of the military, and some with connections to our community.
Upon close review, visitors will discover two of the same names, Michael Francis Lynch.  Both were with the New York Fire Department. One was stationed on Engine 40 and the other on Ladder 4. There is also a paw print in honor of K-9 Sirius, a yellow Labrador who was a member of the Port Authority of New York and New Jersey Police Department.