Upcoming Events In Western Mass
We strive to post the most current and accurate event information but changes and cancellations do occur so please check the official event website to confirm all details.
When you think back to some of your favorite childhood moments, very few of them probably happened when you were sitting at home watching TV. Instead, your most poignant memories probably revolve around that time you ended up with the home run ball at a baseball game, and the crowd cheered and you felt like a rock star, or at least like Babe Ruth.
Or maybe it was that time your family attended The Big E together and your dad bought you cotton candy and let you get all sticky-faced, and you watched your mom beat the midway games, and you felt like your heart was going to overflow with contentment and happiness.
In Western Massachusetts, events bring us together to celebrate our successes and recollect on our heritage. We've put together a list of some of the top yearly events in Massachusetts, things we and our local friends love doing to feel connected to our area and our community.
Top Yearly Western Massachusetts Events
Because of the beautiful area where we live, there are distinct Western Massachusetts-specific events that take place in each and every season. From leaf peeping in the fall to river rafting in the spring to skiing in the winter, you can find a wide range of things to do throughout the year, and some of our local events reflect the joyous beauty of our seasons.
Top Western Massachusetts Events for Spring
Springfield Annual Pancake Breakfast
Does anything scream "neighborly get-together more than a pancake breakfast? If your mouth is already watering over the thought of fluffy, buttery, syrupy goodness, you're not going to want to miss the Springfield Annual Pancake Breakfast, typically hosted in May in downtown Springfield.
Bring your appetite, because it's billed as the World's Largest Pancake Breakfast, and be ready to feast on both good food and friendly conversation.
Paradise City Arts Festival (Northampton)
This Paradise City Arts Festival is ranked among the best in the country, and includes exhibits from more than 250 artists in all mediums. Artists flock to Western Massachusetts from around the country to be part of this visually dazzling display.
Come out to enjoy the weather that's not quite summer, not quite spring, and stay to buy way too much from the vast selection of contemporary art pieces on display.
Brimfield Outdoor Antique Show
With spring in the air, you'll want to get out and enjoy the largest outdoor antique and collectible show in the country. The Brimfield Outdoor Antique Show features over 5000 dealers throughout the quaint country town of Brimfield. And once is never enough – they do this in July and September, too!
Top Western Massachusetts Events for Summer
Baseball Season Opening Night
Baseball is the quintessential American pastime, and there's really nothing that can top the nostalgia of being present on opening night.
The Westfield Starfires and Valley Blue Sox will kick off their seasons right at the start of the summer, and both promise to bring plenty of excitement to the community. Be sure you arrive ahead of gametime to root, root, root for the home team.
Yankee Candle Christmas in July
We love the unforgettable scents of the holiday season. Fir and balsam, spicy gingerbread, warm apple cider – the list could go on and on.
So naturally, Christmas in July is a must. At the flagship Yankee Candle Village, you can enjoy the holiday season, snap selfies with Santa (who might have traded in his traditional red velvet for a more relaxed Hawaiian shirt vibe) and enjoy crafting with Mrs. Claus.
It's just what you need to get a little dose of holiday spirit and deal with the fact that you probably won't be decorating your tree for at least a couple more months.
Basketball Hall of Fame Enshrinement
Meet Basketball's best in the birthplace of the sport! Each summer, the Naismith Memorial Basketball Hall of Fame enshrines the best in the sport in Springfield. Rub elbows with the greatest to play the game and save time for a tour of the Hoop Hall.
Top Western Massachusetts Events for Fall
The Big E
Would this even be a reliable listing of Western Massachusetts events if The Big E weren't included? The community gathering, more formally known as the Eastern States Exposition, is the biggest and best county fair you could imagine.
Every fall, The Big E brings together amazing food, parades, musical entertainment, agricultural exhibitions, car shows and more. There's so much to see, do and taste – you'll need more than one day to fully enjoy all The Big E has to offer.
Six Flags New England's Fright Fest
Each autumn, Six Flags New England transforms into a fright-filled funzone for teens and adults. You'll find scary shows, walk-through attractions and thrill rides that make the most of the season.
Top Western Massachusetts Events for Winter
Springfield Thunderbirds
The Springfield Thunderbirds are a professional ice hockey team in the American Hockey League affiliated with the National Hockey League's St. Louis Blues. Based in Springfield, Massachusetts, the Thunderbirds play their home games at the MassMutual Center.
Springfield, Parade of the Big Balloons
Can't quite make it to New York City for the Thanksgiving parade? We've got you covered, with the Parade of the Big Balloons in downtown Springfield.
Enjoy bands, community gatherings and balloons that represent the best Western Mass has to offer – our favorite is definitely the 75-foot Cat in the Hat balloon.
Bright Nights at Forest Park
Holiday memories are made at Bright Nights at Forest Park. It's just not the holiday season until you've driven through this holiday lighting extravaganza! Look for Santa's Magical Forest, Dinosaur World and Seuss Land – it'll become an annual tradition after the first mile.
Holyoke St. Patrick's Day Parade
Run, walk or float over to the Holyoke St. Patrick's Day Parade. This celebration of Irish heritage brings more than 400,000 guests to the community for a parade, music, food and fun.
It also includes traditional performances by the Holyoke Caledonian Pipe Band and the Road Race, Western New England's largest race (featuring a 10k, a 2 mile walk and a Kids Fun Run).
Community events help us to celebrate what we have in common – a love of the arts, of sport, of nature. The human connection these events create is so important to both mental and physical well-being.
If you'd like to learn more about these community events and dozens of others coming up in Western Mass, or about the top yearly events in Massachusetts, check out our Events listings and customize a schedule just for you. Or, contact us, and let our team of knowledgeable locals help you prepare for a fun and unforgettable Western Mass adventure.

Northfield Mountain, Standup Paddleboarding?
Have you ever wanted to try Standup Paddleboarding? Rent one for 2 hours for $25.
Reserve online or give us a call at Barton Cove! 413-863-9300
FirstLight has donated free paddle passes this summer to residents of Gill, Erving, Northfield, and Montague. Head to your local library to 'check out' a day on the river!
Barton Cove and Munn's Ferry campgrounds are situated along the Connecticut River in Massachusetts. Campgrounds now accepting reservations.
Half of the campsites will be left empty to allow for social distancing, and the larger 30-person group sites will remain closed for the time being, in keeping with state public health guidelines. Picnic tables and grills associated with each of the campsites will be available and sanitized upon the departure of the group renting the campsite. Restroom facilities at these parks will be sanitized once a day. Face masks will be required at the site whenever visitors are outside their designated campsite, or until the public health guidance changes. Any other picnic tables and grills will not be open to the public, and there will be no drinking water available at the campsite – all campers must bring their own drinking water.
For further questions, call 413-863-9300. Please reserve your site by clicking booking link below.
For your convenience and to minimize personal contact, reservations can be made through our camping website link and choosing the Barton Cove or Munn's Ferry BOOK CAMPSITE NOW button below each campsite description.
Tent Sites
Group Site #1
50 people maximum
Group Site #2
30 people maximum
$22 / night
$60 / night
$40 / night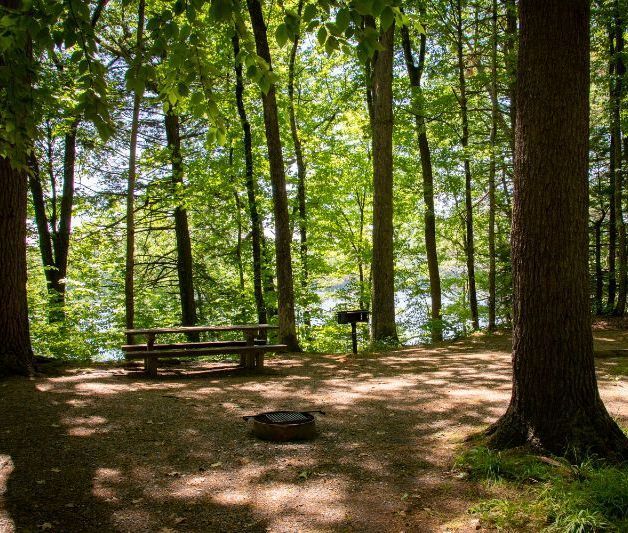 "From stone walls to porcupines, from ancient lakes to abandoned quarries, discover the story of a changing landscape along the Hidden Quarry Trail. "
Looking for another guided trail adventure at Northfield Mountain? You can now access the Hidden Quarry Trail Guide. It's one of our shorter hikes that is perfect for families with little ones or hikers who want a short hike. Check out an abandoned quarry, observe an active porcupine den, and take in the fascinating natural history of this area. You can access the pdf here and on our website.
If you are heading out for a hike, feel free to download our trail map. We also posted the map to the Visitor Center doors if you would like to take a photo of it when you're at the site.
LOCATION
Before You Paddle
As the mild spring temperatures move toward the heat of summer, outdoor enthusiasts will move towards the water to fish, swim, and paddle. To ensure that you have a successful trip there are a number of safety tips to keep in mind as you head out to paddle your chosen vessel on your favorite waterway. Safety begins with personal responsibility so be prepared for the trip you're planning even if it's only a couple of hours on a local pond.
Check the weather forecast. Wind, rain, and thunderstorms can quickly turn an easy paddle into a challenging or life-threatening adventure.
Bring a waterproof pouch for your phone.
Be realistic about your fitness to not only complete the trip you're planning, but also to get your kayak or canoe on and off your car, and to the water's edge.
Dress for the water temperature, not the air temperature, and plan to get wet. Water temperatures remain in the low 60s Fahrenheit in early June.
Wear a personal flotation device (life jacket). In Massachusetts, a PFD is required for youth less than 12 years old and everyone during the colder months (Sept. 15 through May 15).
Bring nutritious snacks, plenty of drinking water, and medications that you are prescribed to take regularly. Avoid alcohol during your paddling trip.
Protect yourself from the sun by regularly applying sunscreen, wear a hat, and sunglasses.
When paddling on waterways shared with motorboats try to wear brightly colored top or PFD. If you plan to be out at sunset be sure to bring a light to improve your visibility to other boaters. A safe return facilitates the next trip.