Northfield Mountain, Standup Paddleboarding?
August 27, 2021

-

September 6, 2021
Have you ever wanted to try Standup Paddleboarding? Rent one for 2 hours for $25.
Reserve online or give us a call at Barton Cove! 413-863-9300
FirstLight has donated free paddle passes this summer to residents of Gill, Erving, Northfield, and Montague. Head to your local library to 'check out' a day on the river!
Barton Cove and Munn's Ferry campgrounds are situated along the Connecticut River in Massachusetts. Campgrounds now accepting reservations.
Half of the campsites will be left empty to allow for social distancing, and the larger 30-person group sites will remain closed for the time being, in keeping with state public health guidelines. Picnic tables and grills associated with each of the campsites will be available and sanitized upon the departure of the group renting the campsite. Restroom facilities at these parks will be sanitized once a day. Face masks will be required at the site whenever visitors are outside their designated campsite, or until the public health guidance changes. Any other picnic tables and grills will not be open to the public, and there will be no drinking water available at the campsite – all campers must bring their own drinking water.
For further questions, call 413-863-9300. Please reserve your site by clicking booking link below.
For your convenience and to minimize personal contact, reservations can be made through our camping website link and choosing the Barton Cove or Munn's Ferry BOOK CAMPSITE NOW button below each campsite description.
Tent Sites
Group Site #1
50 people maximum
Group Site #2
30 people maximum
$22 / night
$60 / night
$40 / night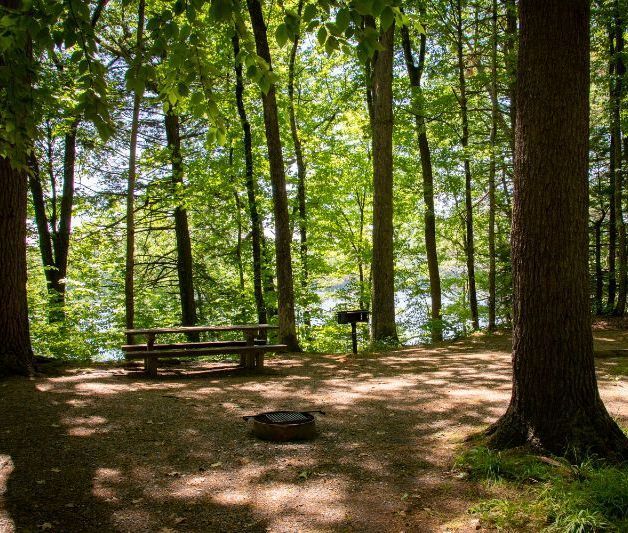 "From stone walls to porcupines, from ancient lakes to abandoned quarries, discover the story of a changing landscape along the Hidden Quarry Trail. "
Looking for another guided trail adventure at Northfield Mountain? You can now access the Hidden Quarry Trail Guide. It's one of our shorter hikes that is perfect for families with little ones or hikers who want a short hike. Check out an abandoned quarry, observe an active porcupine den, and take in the fascinating natural history of this area. You can access the pdf here and on our website.
If you are heading out for a hike, feel free to download our trail map. We also posted the map to the Visitor Center doors if you would like to take a photo of it when you're at the site.
LOCATION
Before You Paddle
As the mild spring temperatures move toward the heat of summer, outdoor enthusiasts will move towards the water to fish, swim, and paddle. To ensure that you have a successful trip there are a number of safety tips to keep in mind as you head out to paddle your chosen vessel on your favorite waterway. Safety begins with personal responsibility so be prepared for the trip you're planning even if it's only a couple of hours on a local pond.
Check the weather forecast. Wind, rain, and thunderstorms can quickly turn an easy paddle into a challenging or life-threatening adventure.
Bring a waterproof pouch for your phone.
Be realistic about your fitness to not only complete the trip you're planning, but also to get your kayak or canoe on and off your car, and to the water's edge.
Dress for the water temperature, not the air temperature, and plan to get wet. Water temperatures remain in the low 60s Fahrenheit in early June.
Wear a personal flotation device (life jacket). In Massachusetts, a PFD is required for youth less than 12 years old and everyone during the colder months (Sept. 15 through May 15).
Bring nutritious snacks, plenty of drinking water, and medications that you are prescribed to take regularly. Avoid alcohol during your paddling trip.
Protect yourself from the sun by regularly applying sunscreen, wear a hat, and sunglasses.
When paddling on waterways shared with motorboats try to wear brightly colored top or PFD. If you plan to be out at sunset be sure to bring a light to improve your visibility to other boaters. A safe return facilitates the next trip.