Northfield Mountain, Cross Country Skiing & Snowshoeing
Open for cross country skiing & snowshoeing! We received 6″ of new snow on Friday. Trails open 9:00 – 4:30.
Trail passes are required and available at the ticket window.
Base depth after grooming is 3″ – 4″. Trails groomed to corduroy surface.
Rentals are not available.
Please No Walking on Trails / No Pets
Indoor warming spaces are not available. A portable toilet is located near the Visitor Center.
Northfield Mountain has more than 25 miles of trails designed specifically for cross country skiing and groomed for both classical and free-style skiing. Our trails offer some of the finest Nordic skiing in the region, from beginner trails to the demanding 800-foot vertical climb of Tenth Mountain Trail. Hikers, dogs and other pets are excluded from our trails during the ski season. Trail use will be for cross country skiing or snowshoeing only and all guests are required to display a valid trail pass each day.
Trails will be open for use from 9:00 a.m. – 4:30 p.m.
From December to March if snow cover is completely absent, too icy, thin, or inconsistent for safe skiing, the trails may be open for hiking and walking with specific recommendations for traction devices to be worn. Once there is adequate snowfall, we will groom and open the trails for cross-country skiing.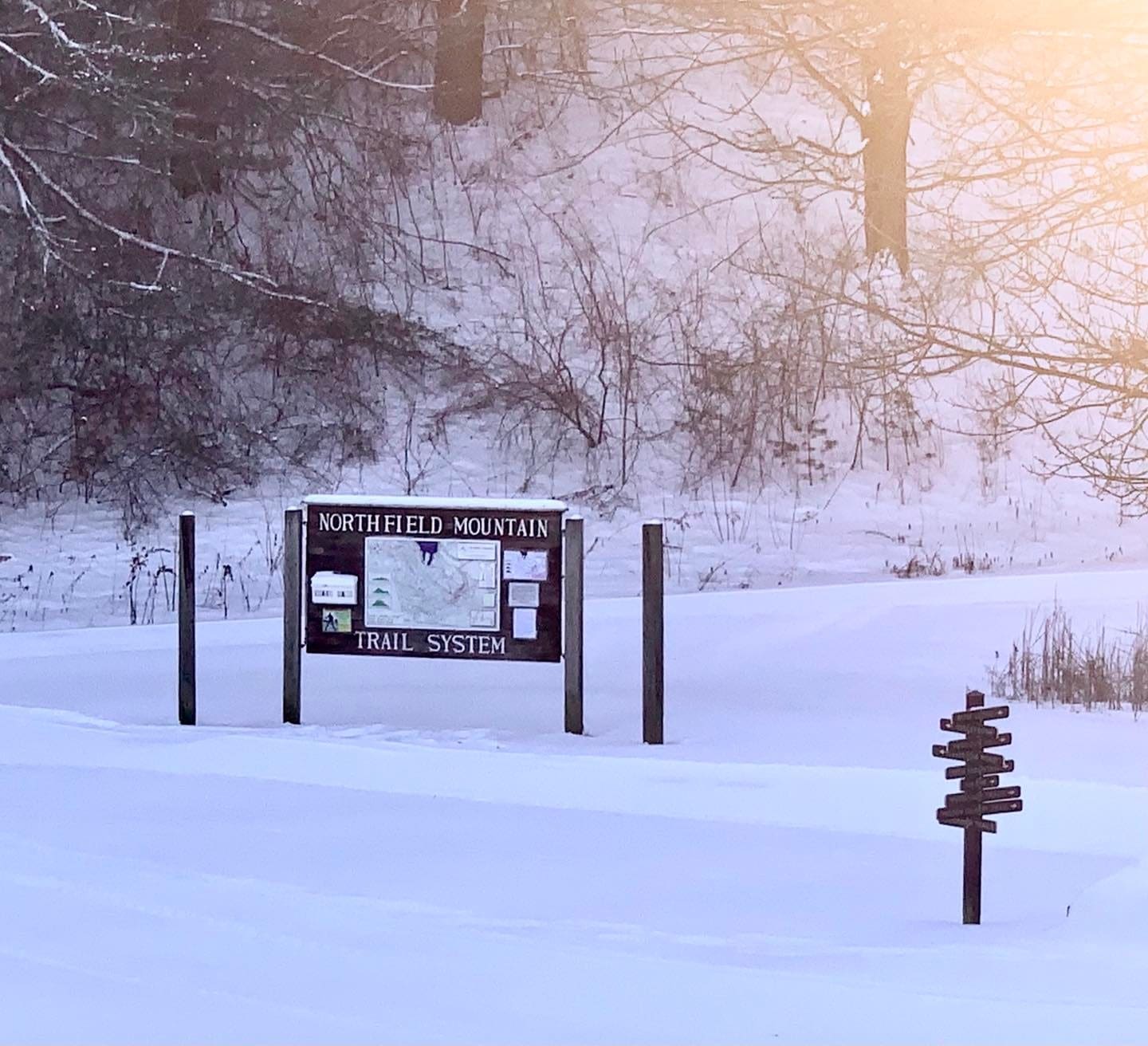 Before heading out, please check our trail report. The trail report can also be found on Facebook and Western Mass Cross Country Ski Areas Association.
Anticipate changes to winter trail use:
To minimize the spread of COVID-19, protect the health and safety of visitors and employees, the following protocols must be followed if we are to offer Nordic skiing and snowshoeing this winter. Please prepare thoroughly for your visit by familiarizing yourself with the following changes and checking our social media presence for additional information and trail conditions.
While visiting Northfield Mountain for skiing and snowshoeing:
Face coverings are mandatory to be worn by all visitors and employees while congregating near buildings, the ticket window, and portable toilets. Social distancing at a minimum or 6 feet is also required in these areas
All visitors must display a trail pass while skiing or snowshoeing
Trail passes, required for skiing and snowshoeing may be purchased outside at the ticket window near the trailhead by VISA and MASTERCARD only, or via a link on our website
Rental equipment will be available only for seasonal rental with pickup and return by appointment. Day rentals will not be available
Lessons will not be offered this winter
"Your car is your new ski lodge and warming hut", The visitor Center and yurt will remain closed to visitors
Portable toilets will be provided outside the building and sanitized at least once each day
Animal Track I Spy
In the winter months, animals spend their time searching for food and seeking shelter. Can you find clues to their busy lives? Download Animal Track I Spy and see what you can find.