Norman Rockwell Museum, Presidents Day
February 21 @ 12:00 pm

-

2:30 pm

EST
On Presidents Day, please join us for casual gallery talks covering Norman Rockwell's illustrations and portraits of American Presidents.
Gallery talks will take place at 12pm, 1pm and 2pm
About Norman Rockwell's Presidential Portraits
No other statesman appears more in Norman Rockwell's work than Abraham Lincoln, who is included in eight of the artist's paintings between 1927 and 1964. Rockwell enjoyed painting Lincoln, not only as an affirmation of his private views but also because of the complexity of painting Lincoln's face. Rockwell's 1961 painting, Lincoln for the Defense, presents a dynamic illustration of the President as a determined young lawyer; "If you want to exalt a subject, you shoot up at him," the artist once remarked.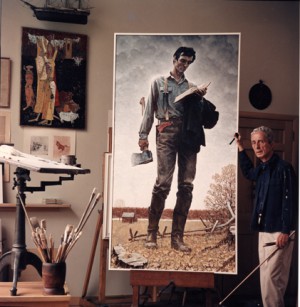 The first use of a Rockwell Presidential portrait on the cover of The Saturday Evening Post came in 1952 when the artist painted General Dwight D. Eisenhower as the Republican candidate for the presidency. When Rockwell arrived in Denver for the modeling session, he said Eisenhower's "eyes were far away." In an attempt to get a smiling Eisenhower, Rockwell threw out a few remarks. The one that most changed the future President's expression was "How are those grandchildren, General—pretty nice, eh?" The many expressions of President Eisenhower are included in Rockwell's pictorial essay, "The Day I Painted Ike," which featured inside of the same issue of the magazine (October 11, 1952). The artist would go on to paint President Eisenhower's portrait one more time for the Post (October 3, 1956 cover).
All visitors to Norman Rockwell Museum over the age of 18 must provide proof of a full COVID-19 vaccination (accompanied by a photo ID).