Norman Rockwell Museum, Exhibits
Frank E. Schoonover: American Visions, November 10, 2018 through May 27, 2019. Gregory Manchess: Above the Timberline, November 10, 2018
through February 24, 2019.
Frank E. Schoonover: American Visions, November 10, 2018
through May 27, 2019
Explore the creative and geographical journey of illustrator Frank Earle Schoonover (1877-1972). Schoonover's dynamic adventure paintings for literary classics were inspired by the belief that artists should live what they paint—an adage often repeated by his noted teacher, illustrator Howard Pyle. Frank E. Schoonover: American Visions will include major oil paintings, historical book illustrations (drawn from among the 200+ books he illustrated), and dramatically staged adventure paintings created for such classic stories as Kidnapped, Robinson Crusoe, Swiss Family Robinson, and Ivanhoe. These will be supplemented by drawings, photographs, handwritten daybooks, props, and personal effects that will illuminate Schoonover's prolific career, life, and times, including his years as a student of Pyle His own long teaching career and his role in establishing the Delaware Art Museum will also be explored. Learn more…
Gregory Manchess: Above the Timberline, November 10, 2018
through February 24, 2019
Take a journey through a futuristic frozen wilderness with 30 original oil paintings from illustrator Gregory Manchess' critically acclaimed book, Above the Timberline, which harkens back to such classic adventure stories as Treasure Island and Robinson Crusoe. Learn more…
The Art and Wit of Rube Goldberg through June 9, 2019 The Norman Rockwell Museum presents The Art and Wit of Rube Goldberg, an exhibition exploring the humorous illustrations of the visionary artist, who has become famous for the creative inventions bearing his name. On view at the Museum from March 2 through June 9, 2019, the exhibition will offer a revealing look at Goldberg's creativity through original comic strips from the 1930s, where the artist created his complicated machines, as well as later political cartoons and instructional materials from the Famous Artists School, which are now part of the permanent collection of Norman Rockwell Museum.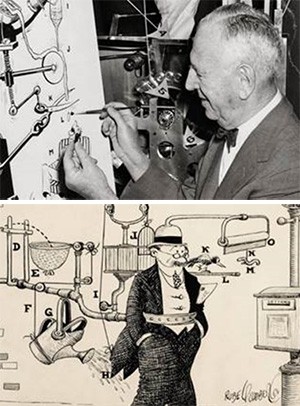 Highlights from the exhibition include a series of World War II-themed artworks, created by Goldberg for use with his Famous Artists School instruction in cartooning. Ink and charcoal drawings such as The Boot, featuring a map outline of Italy giving a swift kick to Soviet revolutionary Joseph Stalin; and Style Note from Russia, depicting an overcoat-wearing bear representing Russia, with pockets devoted to Poland, Czechoslovakia, and other acquired territories. These works demonstrate Goldberg's gift for making witty connections through the use of symbolic representations. Other cartoons on display from the Famous Artists School Collection offer a step-by-step look at the artist's process in creating political cartoons.
Also included in the exhibition are pencil, pen and ink drawings loaned from the collection of Williams College Museum of Art, which demonstrate Goldberg's elaborative creativity. A sampling of the artist's inventive ideas and gag cartoons created  during the late 1940s include an "automatic dieting machine with goat attachment," "a simple one-shift bouncer for free loaders," and a "Revolvometer for looking at modernistic art." Vintage video clips will also be on display in the exhibition, showing the inventive artist and his influence on everything from Tom and Jerry cartoons to the movie Back to the Future.
The Art and Wit of Rube Goldberg is generously sponsored by Keator Group, LLC.
Born in San Francisco in 1883, Reuben Garret Lucius Goldberg studied Engineering at the University of California, Berkeley and soon found work mapping sewers and water lines for the city of San Francisco. Shortly after starting his engineering career, Goldberg quit to become a sports cartoonist at the San Francisco Chronicle. In 1907 he moved to New York where he began drawing cartoons for the New York Evening Mail. Comic creations such as Boob McNutt, Foolish Questions, Mike and Ike (They Look Alike), I Never Thought of That, and The Inventions of Professor Lucifer Gorgonzola Butts, which showcased the Rube Goldberg Machine, were syndicated across the country.
In the late 1930s, Goldberg added editorial cartoons to his repertoire, and focused on the events in Europe in the lead up to World War II. As the son of a Jewish immigrant, Goldberg understood early on the threat of Nazi Germany, and felt passionately about the world's indifference to the events happening in Europe. During World War II, Adolf Hitler became Goldberg's main point of ridicule. Following the war, Goldberg continued to comment on world politics and in 1948 he won a Pulitzer Prize for a political cartoon titled Peace Today, which addressed the threat of nuclear war.
Following the end of World War II, the artist became a founding member and the first President of The Cartoonists Society, and later a teacher of the Famous Artists School. Goldberg began offering instruction on editorial cartoons in the school's Cartoon Course.