Norman Rockwell Museum, Exhibition: Keepers of the Flame
Keepers of the Flame: Parrish, Wyeth, Rockwell and the Narrative Tradition will shed light on the thread connecting American narrative painting—as embodied by legendary illustrators Maxfield Parrish (1870–1966), N.C. Wyeth (1882–1945), and Norman Rockwell (1894–1978)—to the roots of European painting, tracing the long line of teachers who, through the centuries, passed wisdom, knowledge, and techniques to the next generation of creators.
In tracing the student to teacher lineage of the three Golden Age illustrators back to their artistic forbearers in the Italian Renaissance, the exhibition shows that they painted with the same principles and techniques as their ancestral mentors, creating both iconic imagery and unforgettable narratives, and defining themselves as true inheritors of the rich lineage of traditional Western painting.
Keepers of the Flame comprises more than 65 works by American and European masters, culled from public and private collections from across the United States. This includes works by Robert Vonnoh, Thomas Anshutz, George Bridgman, Henry Siddons Mowbray, Howard Pyle, and Thomas Eakins, as well as paintings by mainstays of the French academies of the 19th century, Jean Leon Gérome, William-Adolphe Bouguereau, Paul Delaroche, Henri Lehmann, and Mark Charles Gleyre, and other masters through the centuries.
A digital component will further trace the artistic lineage and influences in the form of a "family tree" comprising portraits, biographies, and selected paintings from more than 70 artists from 1400 to 1950.
A richly illustrated exhibition catalogue will include essays by Nolan, Plunkett, and award-winning illustrator, professor, and Norman Rockwell Museum Board President Alice A. Carter.
Organized by Norman Rockwell Museum, the exhibition is curated by Dennis Nolan, an award-winning illustrator and professor emeritus of the Hartford Art School, University of Hartford, and Stephanie Haboush Plunkett, Deputy Director and Chief Curator, Norman Rockwell Museum.
The exhibition is sponsored in part by TD Bank and the Dr. Robert C. & Tina Sohn Foundation.
IMAGE CREDITS
Maxfield Parrish (American, 1870-1966)
The Lantern Bearers, 1908
Oil on canvas, mounted on board, 40" x 32"
Crystal Bridges Museum of American Art, Bentonville, Arkansas, 2006.71.
Photography by Dwight Primiano
N. C. Wyeth (American, 1882-1945)
In the Crystal Depths, 1906
Oil on canvas, 38″ x 26″
Illustration for N. C. Wyeth, "The Indian in His Solitude", The Outing Magazine, vol. L, no. 3, June 1907
Brandywine River Museum of Art, Museum purchase, 1981
Norman Rockwell (American, 1894-1976)
Girl at Mirror, c. 1954
Cover illustration for The Saturday Evening Post, March 6, 1954
Oil on canvas, 40 1/4″ x 38 1/2″
Norman Rockwell Museum Collection, NRACT.1973.008
©SEPS: Licensed by Curtis Publishing, Indianapolis, IN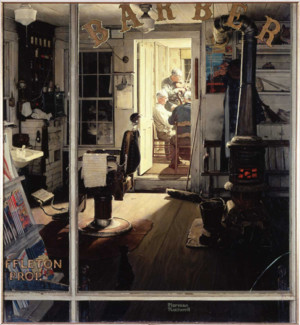 Shuffleton's Barbershop, Rockwell's acclaimed 1950 painting recently acquired by the Lucas Museum of Narrative Art, will go on view at the Rockwell Museum beginning June 9. The painting, acknowledged by many as a masterpiece, joins the Museum's landmark exhibition Keepers of the Flame: Parrish, Wyeth, Rockwell, and the Narrative Tradition, on view from June 9 through October 28, 2018. It will then remain on view at the Museum in a series of themed presentations.
A work of compositional complexity and emotional subtlety, Shuffleton's Barbershop depicts a trio of amateur musicians enjoying an evening of music in the warmly lit back room of a barbershop, a daily hub of community life. The painting depicts the artist's hometown barbershop, which he and his family frequented while living in Arlington, Vermont. Rockwell posed the shop's proprietor, Rob Shuffleton, as the fiddler in the back room, though he was a sportsman rather than a musician in real life—as attested to in the rifle and fishing tackle in the front room. Painted for The Saturday Evening Post cover of April 29, 1950, this work in oil on canvas measures approximately four by four feet, and it is riveting in its detail.