Mount Holyoke College Art Museum, EXHIBITS
JOAN JONAS AND THE MIRROR
THROUGH JUNE 16, 2019 IN THE FRONT GALLERY AND GUMP FAMILY GALLERY
Once called the "Mother of all Performance Art," Joan Jonas '58 has used mirrors in her groundbreaking multimedia works since the late 1960s. From early performances captured on 16mm film, to recent installation pieces, Jonas uses the concept of the mirror to show us that images are not facts, but reflections of our individual imaginations and assumptions. Mirror-studded costumes, convex and full-length looking glasses, and the metaphorical mirror of the camera distort our notions of space, subject, object, and audience. This focused exhibition—the first of the artist's at her alma mater—brings together four mirror-themed works that span Jonas's prolific career.
Born in New York in 1936, Jonas received her B.A. from Mount Holyoke College before attending the School of the Museum of Fine Arts, Boston and Columbia University, where she earned an M.F.A. in Sculpture in 1965. Incorporating video, sculpture, drawing, and performance, Jonas's innovative work uses diverse storytelling traditions to explore ways of seeing. She has participated in Germany's prestigious dOCUMENTA six times since 1972, and in 2015, she represented the United States at the Venice Biennale. Currently, Jonas is the subject of a major touring retrospective, curated by Tate Modern, London. A hero and mentor to a younger generation of artists, she is professor emerita at the Massachusetts Institute of Technology. Jonas lives and works in New York City and Nova Scotia.
Joan Jonas is Mount Holyoke's 2018 Leading Woman in the Arts, a short-term residency and lectureship organized by the Weissman Center for Leadership in collaboration with the InterArts Council.
MARK YOUR CALENDAR!
2018-2019 Leading Woman in the Arts Lecture
JOAN JONAS '58
Thursday, October 18, 5:30 p.m.
Gamble Auditorium, Art Building
Fall Opening Reception to follow
OTHELLO RE-IMAGINED IN SEPIA
THROUGH DECEMBER 16, 2018
IN THE ANNE GREER AND FREDRIC B. GARONZIK FAMILY GALLERY
African American painter and printmaker Curlee Raven Holton reinvents Shakespeare's Othello in this series of ten etchings, created during an artist residency at the Venice Printmaking Studio in 2012. At once aesthetically decadent and psychologically raw, Holton's sepia-toned prints explore the inner life and public persona of the Moor of Venice, bringing to his story contemporary ideas about race, identity, and love.
Curlee Raven Holton is an internationally-recognized artist, scholar, and educator. The subject of a recent retrospective at the Cleveland Institute of Art, his work employs powerful visual narratives to address significant personal, political, and cultural events. From 1991 to 2017, Holton taught printmaking and African American art history at Lafayette College in Easton, PA, where he also founded the acclaimed Experimental Printmaking Institute (EPI). He currently serves as the executive director of the David C. Driskell Center at the University of Maryland. Holton earned his M.F.A. with Honors from Kent State University and his B.F.A. from the Cleveland Institute of Art.
This exhibition is made possible by a grant from the Pierre and Tana Matisse Foundation and the gifts of individual donors in support of the Mount Holyoke College Art Museum's Diverse Voices Initiative.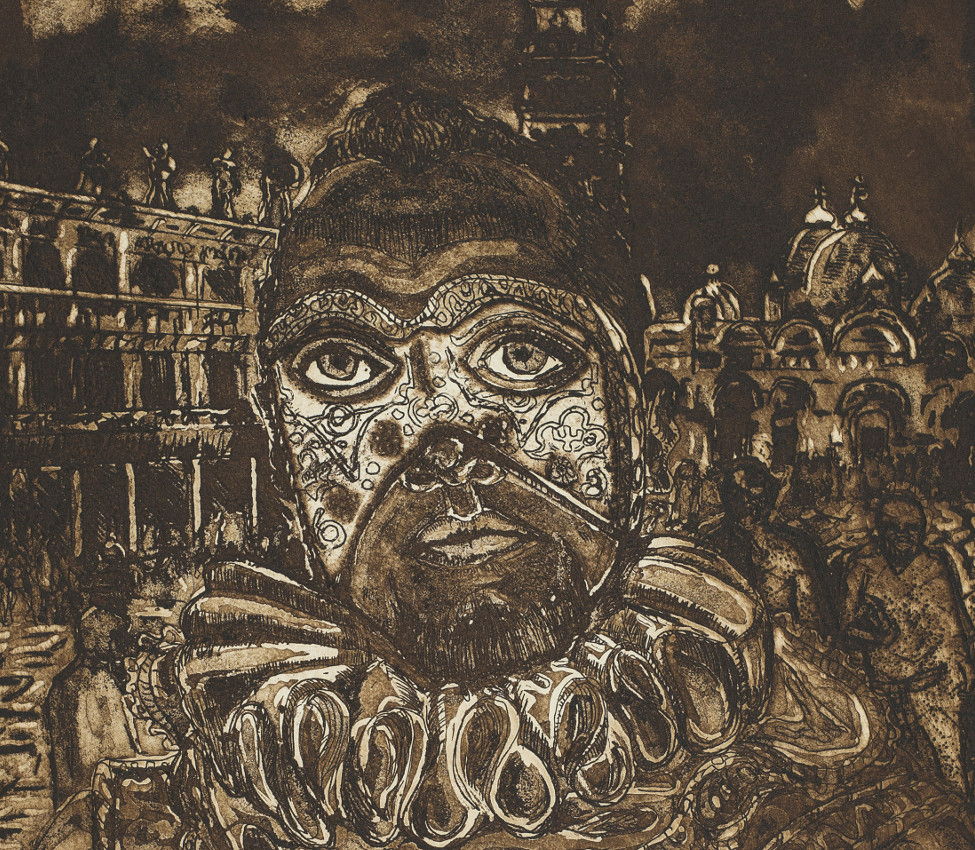 Major Themes: Celebrating Ten Years of Teaching with Art
August 11, 2018 – June 21, 2020