Mount Holyoke College Art Museum, Talk
October 10 @ 4:30 pm

-

5:30 pm
Join Desmond Fitz-Gibbon, Associate Professor of History, and Aaron Miller, Associate Curator of Visual and Material Culture, for an introduction to the exhibition Money Matters: Meaning, Power, and Change in the History of Currency. In addition, students from the "History of Money" course will offer insights about specific objects in the exhibition, demonstrating how money can reflect systems of political power and social interaction, as well as convey ideas about history, identity, and values.
Thursday, October 10, 4:30-5:15 p.m.
Art Museum Galleries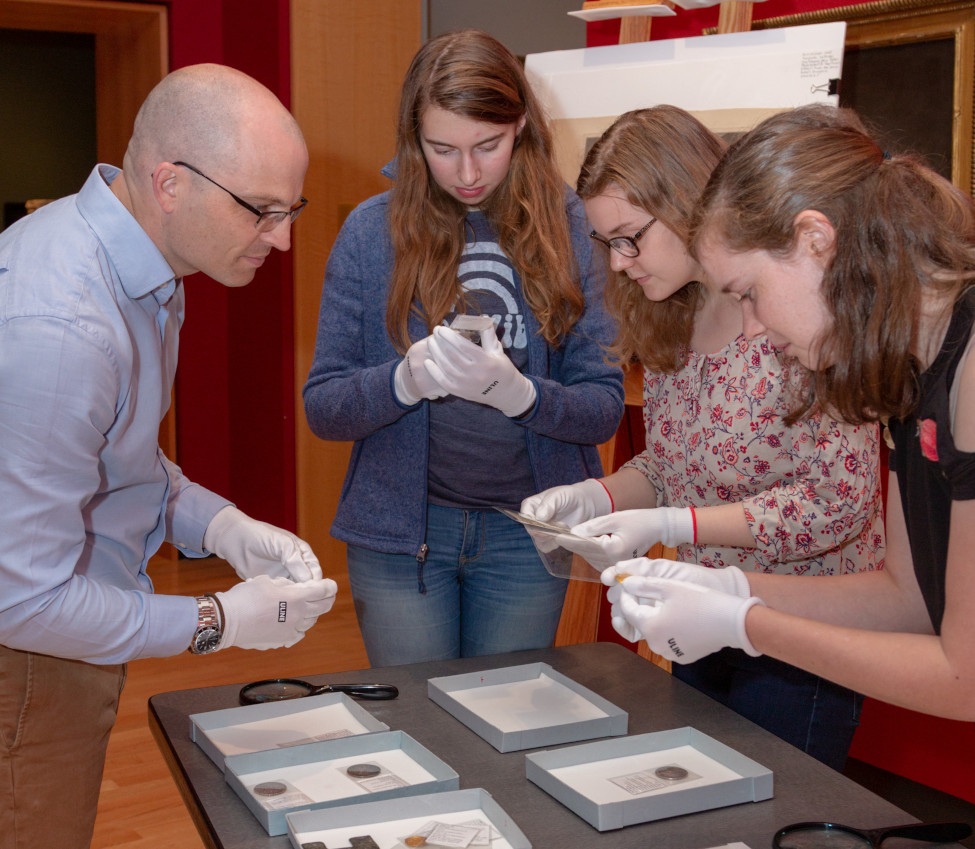 Exhibitions:
Katrien Vermeire:
August 31, 2019 through June 21, 2020
Katrien Vermeire's documentary, Der Kreislauf, offers a meditation on the meaning and measure of value by capturing a day on a beach in De Haan, Belgium, and the children who activate it as world of exchange.
In the Making: The Mount Holyoke College Printmaking Workshop
August 31, 2019 through June 21, 2020
This exhibition celebrates the work of artists and printers who participated in the Mount Holyoke College Printmaking Workshop between 1984 and 2012. Through the display of preparatory drawings, proofs, and archival images, alongside the stunning prints themselves, the exhibition illuminates the creative modalities underlying each artist's approach to the medium.
Art Museum Hours:
Tuesday–Friday: 11:00 am–5:00 pm
Saturday and Sunday: 1:00–5:00 pm
Closed Mondays and on these major holidays:
New Year's Eve, New Year's Day, Independence Day, Thanksgiving Eve, Thanksgiving Day, Christmas Eve, and Christmas Day
Mount Holyoke College Art Museum
Lower Lake Road
South Hadley, MA 01075
View Map
Joseph Allen Skinner Museum
33 Woodbridge Street (Route 116)
South Hadley, MA 01075
View Map
Parking
Free parking is available near the ART MUSEUM. Drive past the Museum (on your right) on Lower Lake Road and take the first left. Cross the bridge and turn left into the parking lot behind Willits-Hallowell Conference Center. After parking, look for the foot bridge for the shortest walk to the Museum. After 5:00 pm on weekdays and any time on weekends, visitors may also park in faculty/staff parking spaces along Lower Lake Road. Parking spaces for visitors with physical disabilities are available on the semi-circular driveway directly in front of the Museum's main entrance.
Free parking is available directly in front of the JOSEPH ALLEN SKINNER MUSEUM.