Deerfield Memorial Hall Museum, Traveling Exhibit in Holyoke
On view through November 30, 2022 at the Holyoke Heritage State Park Visitor Center.
Fertile Ground: Corn Cranberries, Tobacco, and Artists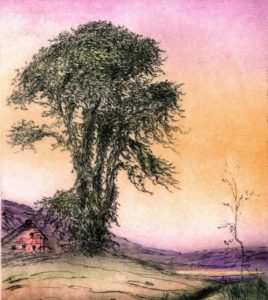 The Pocumtuck Valley Memorial Association's traveling exhibit explores connections between the Connecticut River Valley's agricultural landscape and generations of artists in the Fuller family of Deerfield.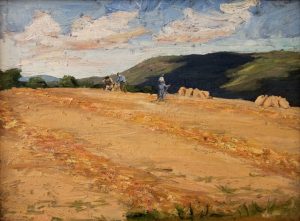 Imaginary art studios represent three generations—George Fuller's painting studio, Arthur Negus Fuller's printmaking studio, and Elizabeth Brooks Fuller's en plein air (outdoor) studio. Enjoy reproductions of oil paintings, prints, and watercolors from Memorial Hall Museum's Fuller Collection and learn how farming influenced these artists' work.

Come explore the museum's 19 rooms of art, culture and history! We are located in the village of Deerfield, Massachusetts, but as the earliest historical society in the region, people from throughout Franklin County—as well as Hampshire and Hampden counties—entrusted their family stories to the Pocumtuck Valley Memorial Association. From fossils of dinosaur tracks to 20th century artifacts, this extraordinary collection continues to be enhanced by both donations and purchases.
Memorial Hall Museum is open weekends in May; and Tuesday through Sunday from June through October. We look forward to welcoming you again back during the 2022 season.
Continuing our 150th anniversary celebration, we are offering FREE admission again this season! Learn more about the museum here.