Beautiful chamber music performed in the lovely Victorian setting of Memorial Hall Museum's Music Room at 3 p.m. on Sundays through September 3rd, 2023.
Tickets: $15  for adults; $8 for seniors and students. Tickets available at the door.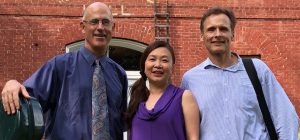 September 3, 2023
The Deerfield Trio
Mark Fraser, Cello
Anthony Berner, Violin
Yu-Mei Wei, Piano
Please check the website for last minute changes (phone: 413-774-7476 ext. 100; email: [email protected]). The entire 2023 season is underwritten by: Martha & Thomas Terry, Tim Neumann & Tom Mershon, and Arrivability Car Service, South Hadley. General sponsors for individual concerts appear on each concert program.

Pocumtuck Valley Memorial Association is a vibrant regional organization, maintaining Memorial Hall Museum, a research Library, Deerfield Teachers' Center, Indian House Children's Museum, and Community Outreach projects.