CrabApple Whitewater, Maine Dead River Trips
Dead River trips begin with anticipation (the energy is palpable before a big water release on the Dead!) and a hearty breakfast in our base lodge (included with rafting and lodging packages) before each rafter gears up into comfortable river gear and listens to safety instruction from the day's trip leader.
The Dead River has eight special high volume dam releases each season that produce big whitewater action over 16 miles. The river bed drops steadily during the entire run and produces long, consistent action that builds throughout the day in Class III-V rapids such as "Humpty Dumpty", "Elephant Rock" and "Spruce Ledges". Each rapid includes long wave trains and sudden drops into deep holes.
The Dead continues to build through dozens of rapids and culminates in the LONGEST RAPID IN THE NORTHEAST, Class IV-V "Poplar Hill Falls". "Poplar" on its own is one mile of whitewater with huge standing waves and deep, turbulent holes. When you combine "Poplar" with the rest of this action packed trip, you have the finest raft trip in the Northeast!
After rafting on the Dead River, most of our guests stay over for a second night and enjoy relaxing time in our pool, take a walk into Maine's highest waterfall – Moxie Falls, or join the Nightfall Paintball game that begins ever day after rafting.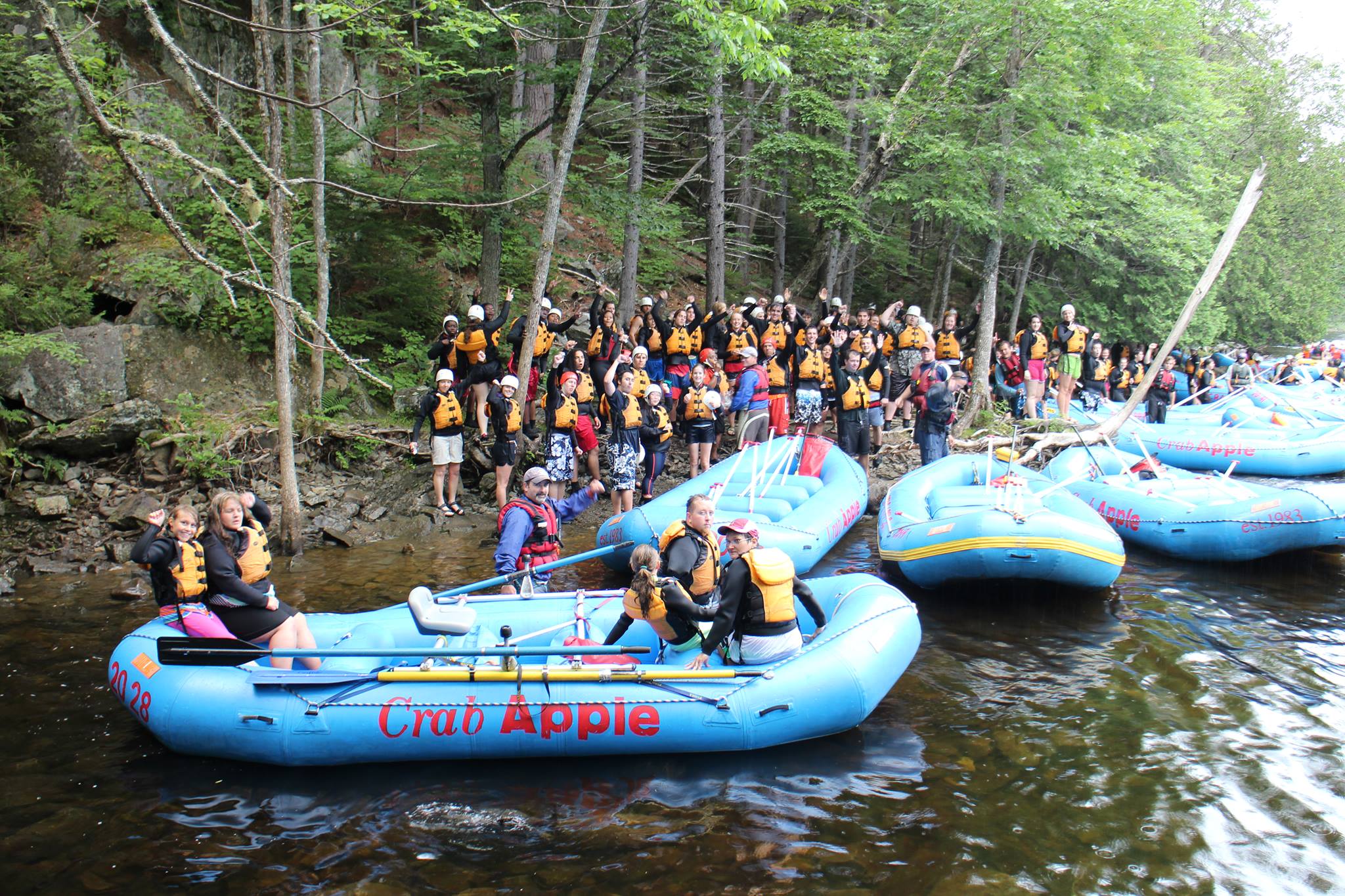 Rafting Includes: Pre-trip safety instruction, licensed guide, PFD and helmet, transportation to and from river, cookout (steak, chicken, fish or vegetarian option), photo and video presentation.
Raft Capacity/Private Raft: Our rafts hold 8-9 paddlers (8 is ideal). Groups of 7-9 will have a private raft. Groups with fewer than 7 may we joined by other parties.
Go For It Rafts
Our 13 foot, 6 person Go For It rafts are the shortest allowed by the state of Maine. These rafts give the Dead Rivers a whole new look – waves and holes like "Big Mama" and "Magic Falls" swallow these smaller boats making for some of the wildest rides of the season. This trip is geared toward veteran rafters and a minimum of 4 people is required to run a Go For It trip.
Trip dates: Available on Dead River May 20, 28, June 3, September 3 and October 7. Please call to book Go For It Raft trips 1-800-553-7238.
Price: Add $25 pp to trip price
Minimum Age: 14
Call to reserve this trip! 800.553.RAFT (7238)