We're celebrating Martin Luther King Jr. with kids' pricing for everyone this weekend!  So join in the fun and bring the whole family out for an unforgettable day enjoying more than 165 exhibits in a safe and fun environment. Plus, experience our newest exhibition, Forest of Illusions, now open for a limited engagement. You can also take a trip through our tropical Butterfly Encounter for a small additional fee or take a break from all the excitement with a stunning 3D film on the big screen in our theater. Want to feel like a kid all the time? Purchase a Membership and visit as much as you want all year long, along with a host of exclusive benefits and reciprocals.
EVERYONE PAYS KIDS' PRICE – JANUARY 14-16 – OPEN 10AM-4PM.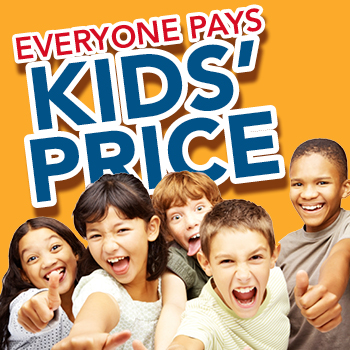 Forest of Illusions
Open through February 12
See it now!
Follow the winding path through our Forest of Illusions where your eyes and mind will be put to the test as you encounter some mind-bending optical illusions. Explore color and light in a whole new way as you mix things up on the interactive light wall. Find your way out of the darkness in a true black hallway that will distort your sense of depth… and space. Check out a human-sized kaleidoscope for an entirely new perspective. Wander into the UV Cave, where the rocks will shine like you have never seen before. This forest holds many dark secrets, all waiting for you to uncover the truth. But one thing is certain in this Forest of Illusions – you won't believe your eyes.